A fight during an NBA game stole the headlines for the second night in a row. 
On Friday night, Minnesota Timberwolves guard Austin Rivers and Orlando Magic center Mo Bamba exchanged punches in the third quarter before the fight spilled onto the court, resulting in five players being ejected from the game. 
The altercation started when Rivers approached Bamba – who was sitting on Orlando's bench – as the ball was in play on the other end of the court. 
CAVS' DONOVAN MITCHELL RIPS GRIIZZLIES' DILLON BROOKS AFTER LOW BLOW: 'THAT'S JUST WHO HE IS'
Bamba stood up from the bench before both players tussled. Magic guard Jalen Suggs pulled Rivers off of Bamba as multiple players became involved in the scrum. 
Suggs and Bamba of Orlando were ejected, while Rivers, Jaden McDaniels and Taurean Prince of Minnesota were thrown from the game. 
After the game, Rivers said that Bamba had been talking trash from the bench on previous plays, which led to the 11th-year guard approaching him during the play. 
CHARLES BARKLEY SAYS MICHAEL JORDAN 'WENT BALLISTIC' IN THEIR MOST RECENT CONVERSATION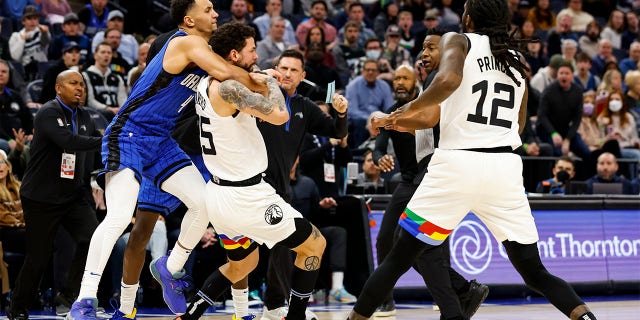 "I'm not gonna snitch on the dude or whatever, but I just didn't like the way he was talking to me," Rivers said after the game. "For no reason, too. I don't even know that dude. I don't know anything about him. Obviously, I just know he's a player for the Magic. And he proceeded to talk, so that next possession, when I went down there, I just said, pretty much, 'Just keep it respectful, bro.'"
"After I went up to him and I pressed him, someone gets up like that, gets in your face, that can go one of two ways," Rivers continued. "He threw a punch and missed. And then somebody – Suggs – grabbed me by my neck. That's what bothered me the most. That's the only thing that's kind of hurting right now." 
CLICK HERE FOR MORE SPORTS COVERAGE ON FOXNEWS.COM
Bamba and Suggs were not made available to speak with the media following the game.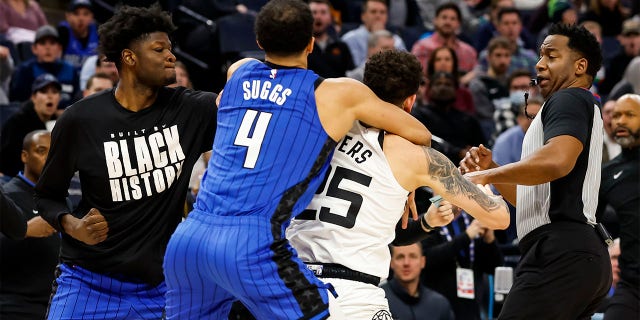 "I never want to get into a situation where I'm throwing hands, or I'm getting thrown out of a game and getting into a fight that leads to something like that," Rivers said. "You end up feeling embarrassed after. This isn't like a cool moment for me. I feel embarrassed. I'm the oldest on the team. I consider myself the leader of the team, or one of the leaders of the team. It was a weird game, and I don't think that helped at all. If anything right now, I'm just p—-d that we lost and that I had (something) to do with that. It doesn't make me feel good."
CLICK HERE TO GET THE FOX NEWS APP
On Thursday night, Donovan Mitchell of the Cleveland Cavaliers and Dillon Brooks of the Memphis Grizzlies were ejected in the third quarter after Mitchell took a shot to the groin from Brooks. 
The NBA fined Mitchell on Friday and suspended Brooks for one game without pay. 
The Associated Press contributed to this report.
[title_words_as_hashtags
https://www.foxnews.com/sports/wild-brawl-leads-five-ejections-magic-timberwolves-game-i-feel-embarrassed