The military fly-over at Super Bowl LVII will commemorate 50 years of women flying in the U.S. Navy and will show off the electronic capabilities of the elite aircraft, military officials announced.
Three U.S. Navy tactical aircraft squadrons will fly over State Farm Stadium in Glendale, Arizona immediately following the playing of the National Anthem on Sunday, Feb. 12.
Lt. Naomi Ngalle, who will be one of the pilots participating in the flyover, told Fox News Digital that she was honored to be among those selected to represent the Navy in celebrating 50 years since the first eight women began flight school in Pensacola, Florida.
"I am humbled and proud to be a part of a team of professional aviators and maintainers. All of the people on this team represent the hard work and sacrifice that comes with serving in the Armed Forces," Ngalle said. "Additionally, I am elated at the opportunity to potentially inspire the next generation of female aviators and maintainers." 
CHIEFS' PATRICK MAHOMES WINS 2022 NFL MVP AHEAD OF SUPER BOWL LVII
She added: "Truly, there is no greater honor."
As for her inspirations, Lt. Ngalle said her mother is her biggest fan.
"My mother has always been my number one supporter. She has always encouraged me to reach beyond my perceived limits. My siblings and nephew additionally have been my foundation and support system since my acceptance to the Naval Academy," the Naval Flight Officer said.
The 2023 commemoration comes 50 years after the first women enrolled in the U.S. Navy flight program in 1973. Six of the eight initial enrollees, titled "The First Six," earned their Wings of Gold the following year.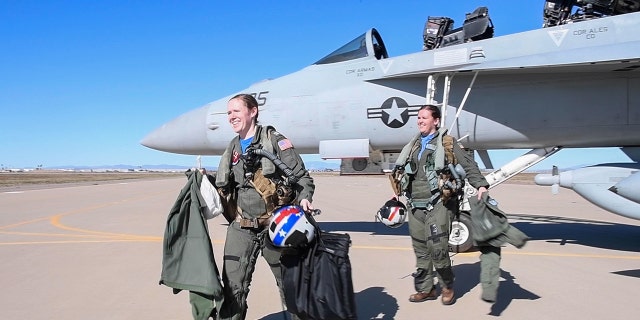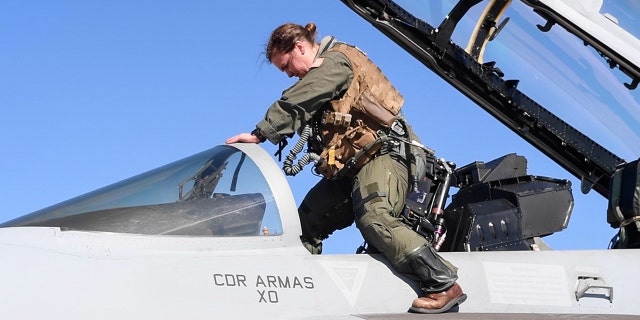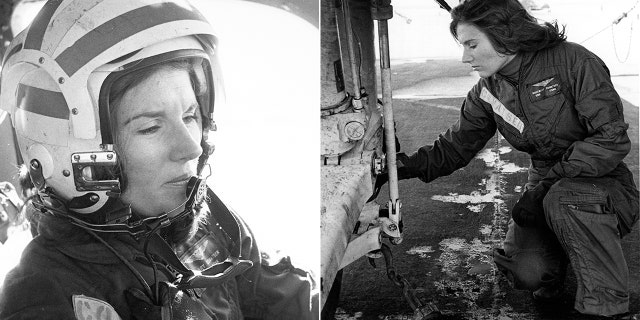 "The First Six" consisted of Lt. Cmdr. Barbara Allen Rainey, Captain Rosemary Bryant Mariner, Captain Jane Skiles O'dea, Captain JoEllen Drag-Oslund, Captain Judith Neuffer, and Captain Ana Marie Scott.
US NAVY RECOVERY OF CHINESE SPY BALLOON CONTINUES
Lt. Ngalle said these women inspire her "daily" as "the level of adversity they faced in training was insurmountable."
"Their professionalism and perseverance serves as the framework for the standard I strive to maintain and exude when leading the next generation of aviators and maintainers," she said.
Following their leadership, in the decades since, women have served, sacrificed, led, operated, and fought at every level of Naval Aviation.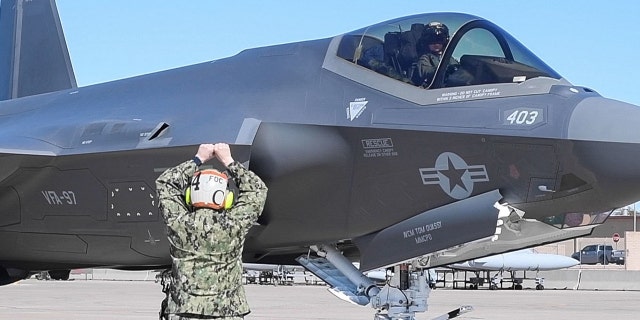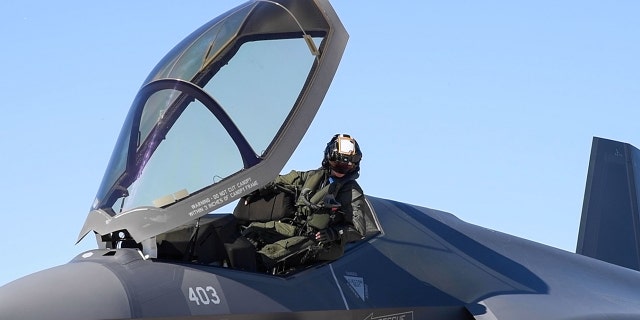 Like the "First Six," Lt. Ngalle said she too has had to overcome obstacles along her journey to becoming a successful pilot.
"Flight training is challenging. To be frank, there were events where I didn't meet the mark. Coping with failure and utilizing it as a tool to take away feedback and improve yourself for the next evolution was a skill I had difficulty developing," she explained. "Once I understood the value of failing in training, it opened my aperture to how much more tactical I could be to better defend the Nation."
The flyover formation will include two F/A-18F Super Hornets from the "Flying Eagles" of Strike Fighter Squadron (VFA) 122 and an F-35C Lightning II from the "Warhawks" of VFA-97, both squadron personnel based at Naval Air Station (NAS) in Lemoore, California.
They will be joined by an EA-18G Growler from the "Vikings" of Electronic Attack Squadron (VAQ) 129 based at NAS Whidbey Island in Oak Harbor, Washington.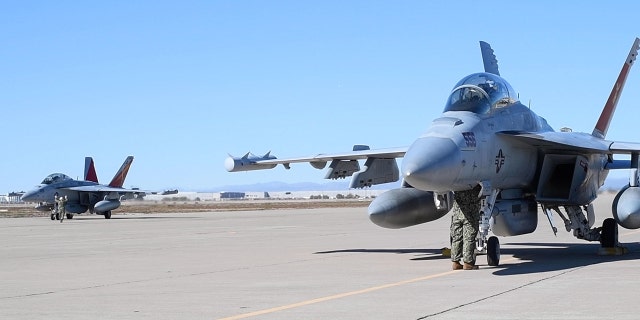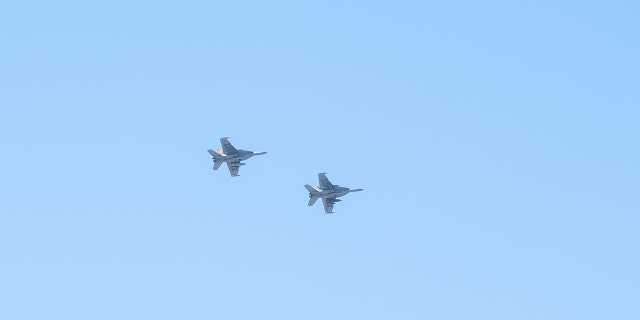 A full list of the Super Bowl flyover team is below.
The aircraft that will be used in the flyover represent the strike and electronic attack capability of the "Carrier Air Wing of the Future," providing advanced technology and enhanced flexibility to our military combatant commanders, the Navy said in said a statement.
SUPER BOWL TO FEATURE TWO JESUS ADS AS PART OF 'HE GETS US' CAMPAIGN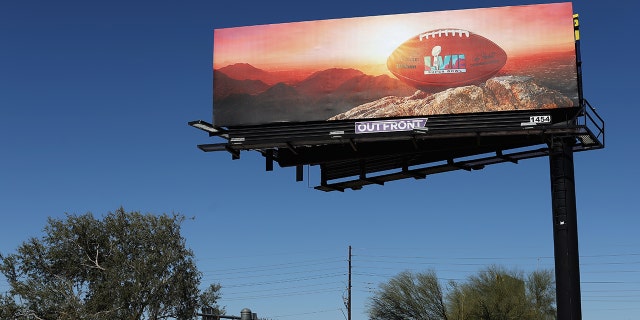 Lt. Katie Martinez, a Naval Flight Officer, said she looks forward to representing Naval Aviation at one of the world's most-watched events, according to the Naval Air Force, U.S. Pacific Fleet.
"It's not a feeling I can even put into words," said Martinez. "It doesn't get bigger than the Super Bowl, and I am humbled and honored to be able to participate with my friends and fellow Naval Aviators as part of this once-in-a-lifetime opportunity."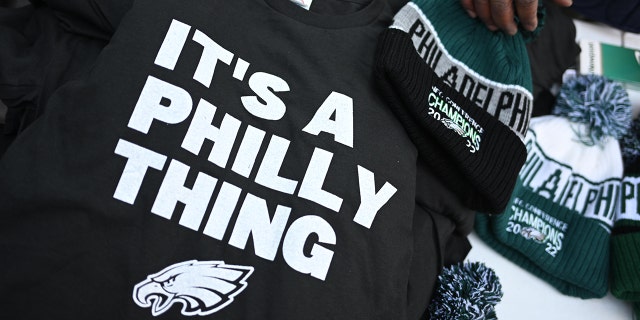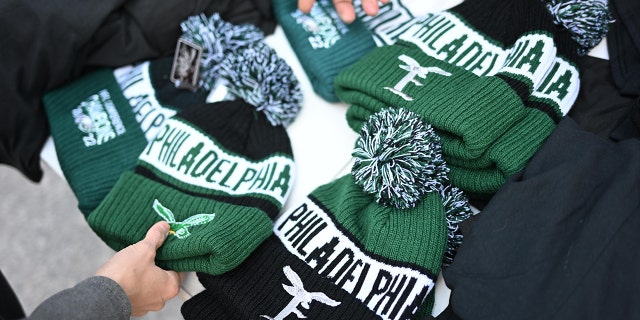 The U.S. Pacific Fleet said the "fifth-generation strike fighter F-35C Lightning II integrates advanced stealth technology into a highly agile, supersonic aircraft that provides unprecedented battlespace awareness, versatility and survivability."
"The F-35C, which is the Navy variant of the F-35 Joint Strike Fighter, sets new standards in weapon system integration, maintainability, combat radius and payload that bring formidable multimission power projection capability from the sea," it added.
And: "Entering fleet service in 1999, The F/A-18 Super Hornet, has earned a reputation as the backbone of the Navy's carrier air wing and a workhorse within the fleet, continuing its key strike fighter role against the advanced threats of the 21st century. Designed to meet current Navy fighter escort and interdiction mission requirements, the Super Hornet maintains fleet air defense and close air support roles, as well as an increasing range of missions, including in-air refueling."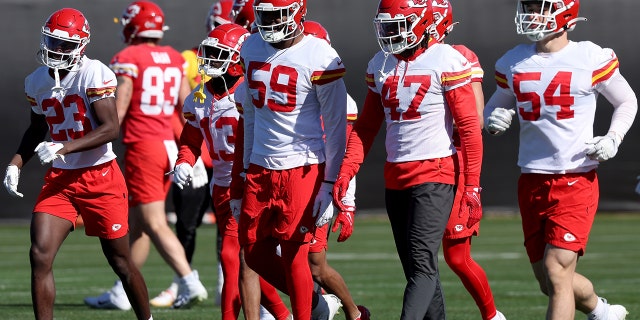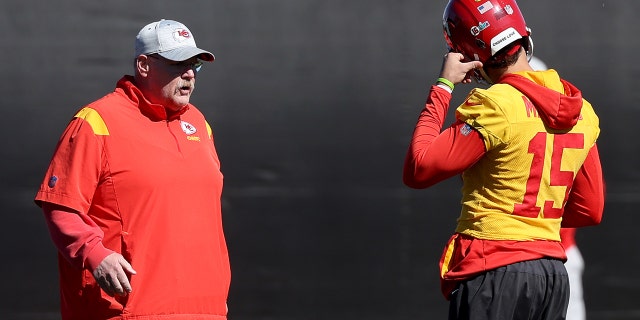 Lt. Ngalle predicts the game will remain close but that the Kansas City Chiefs will emerge victorious over the Philadelphia Eagles. 
The NFL's big game starts at 6:30 p.m. ET.
FOX SPORTS' CHRIS MYERS ON WHAT TO EXPECT DURING SUPER BOWL LVII BETWEEN THE EAGLES AND CHIEFS
The fly-over team consists of:
Lt. Arielle Ash of Abilene, Texas
Lt. Margaret Dente of North Salem, New York
Lt. Jacqueline Drew of Waltham, Massachusetts
Lt. Lyndsay Evans of Palmdale, California
Lt. Saree Moreno of Tampa, Florida
Lt. Naomi Ngalle and Lt. Kathryn Martinez, both of Springfield, Virginia
Lt. Caitie Perkowski of Albuquerque, New Mexico
Lt. Taylor Rudolph of Memphis, Tennessee
Lt. Suzelle Thomas of Birmingham, Alabama
Lt. Cmdr. Calli Zimmerman of San Jose, California
CLICK HERE TO GET THE FOX NEWS APP
They will be supported by a full aviation team with mechanics and others including: Tabitha Bledsoe, Caitlin Hillygus, Mackenzie Andrews-Griswold, Natalie Garcia, Ashley Clifford, Nicole Lardizabal, Kiani Howard, Mikayla Martin, Jalayla Malloy, Rosa Mejia, Maria Quejada, Lizvette Montiel, Rhiannon Sellinger, Ariana Scott, Reanell Smythe, Stacy Wedemeyer, Daniel Armenteros, William Frank III, Lenue Gilchrist III, Slawomir Glownia, Ryan Turner, Nathaneal Afriyie, Brandon Baumann, Joshua Castillo, Cesar Change, Jorge Duron, Jason Ferrell, Gervin Flores, Kevin Frey, Ronald Gorman, Jesse Irwin, Alexander Miranda, Joshua Mohr, Brandon Ohannesian, Joseph Parry, Jamie Pringle, Zachary Ray, John Rodgers, Eder Salazarduenas, Jared Sharp, Nicholas Squires, Jeddryan Tabladillo, and Lorenzo Toscano.
[title_words_as_hashtags
https://www.foxnews.com/sports/super-bowl-lvii-flyover-commemorate-50-years-women-flying-us-navy