The City of Atlanta, which may be hosting the AFC Championship game next weekend, on Saturday became the scene of a violent Antifa insurrection in which people threw bricks at buildings and set fire to police vehicles.
The NFL is planning to play its AFC title game at the Mercedes-Benz Stadium in downtown Atlanta next weekend if the Buffalo Bills and Kansas City Chiefs both qualify for the game.
The Chiefs are already set to play in the AFC Championship Game after defeating the Jacksonville Jaguars 27-20 on Saturday. The Bills play the Cincinnati Bengals Sunday and would meet Kansas City in Atlanta if they beat the Bengals.
CLICK HERE FOR MORE SPORTS COVERAGE ON FOXNEWS.COM
If the Bengals win, the AFC Championship Game would be in Kansas City.
The NFL announced Friday it has sold more than 50,000 tickets for the game should it be in downtown Atlanta.
That potentially means NFL fans from both towns would be in a city where only hours ago rioters took to the streets not far from Mercedes-Benz Stadium and faced off against police.
The NFL did not immediately respond to an email from OutKick requesting information on how it sees the events of Saturday and whether those potentially put the AFC Championship Game in Atlanta at any risk.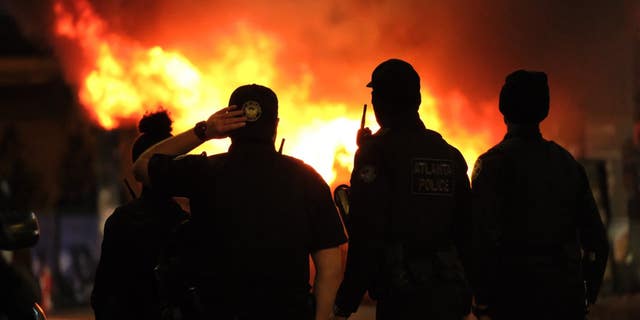 GIANTS LEGEND JOKES HE'S 'ABOUT TO PUT PADS ON' DURING EAGLES BLOWOUT
There have been protests and outcry from some people in Atlanta following the shooting death of activist Manuel Esteban Paez Teran on Wednesday. Teran, 26, was killed by police after allegedly firing a gun at state troopers at the Atlanta Public Safety Training Center.
Hundreds of people marched in what at first seemed like a peaceful protest on Saturday.
But that march soon got out of hand, according to police.
"However, when that group arrived at the intersection of Ellis Street and Peachtree Street, a group inside that marching crowd decided to start committing illegal acts, including breaking windows and attacking police cruisers that were in the area," Atlanta police chief Darin Schierbaum said.
The chief said some of those individuals were actors who have participated in other protests in the past.
The Chief said the protesters turned into rioters when they began breaking windows and attacking police cruisers.
Police responded with what reports said was six arrests.
CLICK HERE TO GET THE FOX NEWS APP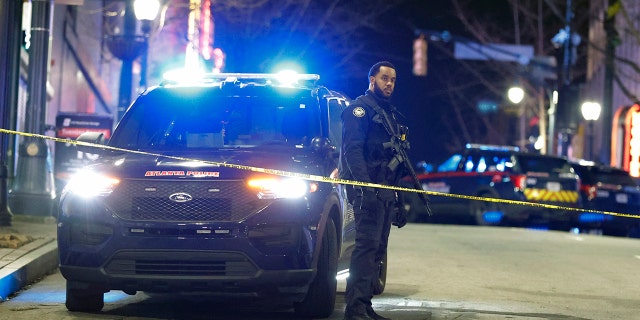 "While the state continues to respect peaceful protest, acts of violence against person or property will not be tolerated. Those committing such unlawful acts will be arrested and prosecuted fully," Gov. Brian Kemp said Saturday.
[title_words_as_hashtags
https://www.foxnews.com/sports/potential-site-afc-championship-game-next-weekend-site-riot-weekend