The Philadelphia Eagles' success using the quarterback sneak was put under scrutiny over the last few weeks.
Eagles quarterback Jalen Hurts, who has tremendous lower-body strength, getting pushed in the back by his teammates and across the first-down marker has been tremendously successful. The team converted 36 of 39 quarterback sneaks they've attempted during the 2022 season.
However, NFL journalist Peter King said Monday the sneak play should be outlawed altogether.
CLICK HERE FOR MORE SPORTS COVERAGE ON FOXNEWS.COM
"It's a dumb play. It always has been a dumb play," King told Pro Football Talk's Mike Florio. "It shouldn't exist, and it's gotten bastardized the longer it stands. And look at how good the Eagles got at it. I don't blame the Eagles, you now what the Eagles are doing? They're taking advantage of a dumb rule."
King said it is not a football play, it's more like rugby.
"It's a bastardization of the rules and the NFL needs to outlaw it."
Eagles cornerback Darius Slay defended the play, saying nobody was complaining when former Tampa Bay Buccaneers quarterback Tom Brady was having success on the play.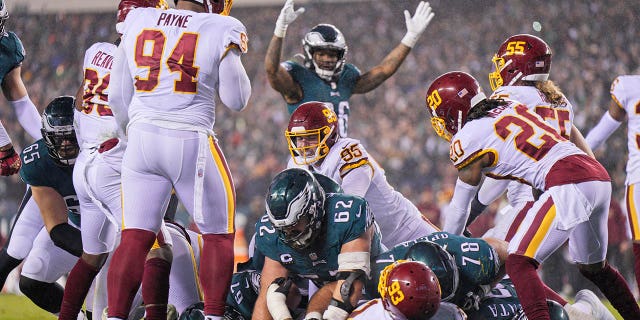 "Hater!! People mad that Hurts doin it but Brady been doing it for Yrs and nobody said nothing than (sic).." Slay commented on Instagram.
SEAHAWKS' PETE CARROLL RESPONDS TO REPORT THAT RUSSELL WILSON WANTED HIM FIRED
Hurts ran for 10 first downs in Super Bowl LVII, and because of how automatic the play is, former NFL vice president of officiating Dean Blandino said he thinks the league is going to discuss the matter this offseason and "I'd be shocked if they don't make a change."
"I was talking to [Denver Broncos head coach] Sean Payton during Sunday's game, and he said we're going to do this every time next season if they don't take it out,'" Blandino told The 33rd Team in February.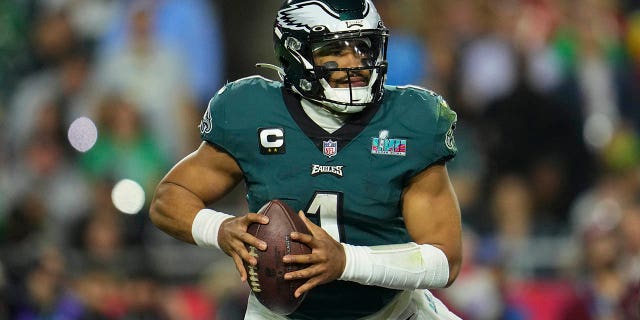 "It amounts to a rugby scrum. The NFL wants to showcase the athleticism and skill of our athletes. This is just not a skillful play. This is just a tactic that is not an aesthetically pleasing play, and I think the competition committee is going to take a look at it."
He compared it to a play teams used to do on point-after and field-goal attempts.
"If you remember on field goals and extra points, they used to be able to push the defensive linemen into the formation," Blandino added. "You would find the weak link on the offensive line. [The offensive line] would have their legs interlocked. And you would get two, and sometimes three, defensive linemen, and two linebackers all pushing into that player. We got rid of that."
Blandino says the easy solution is simply ban pushing the ball-carrier, a move that actually had been illegal up until 2005, but it would require some work.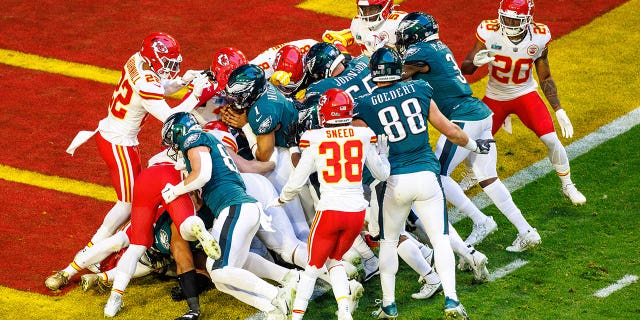 CLICK HERE TO GET THE FOX NEWS APP
"[Outlawing it] on sneaks is easy,'' he said. "The downfield stuff, you just put the tape together, show it to the officials, and you just start calling it. That's the key. To desensitize it, you've got to throw flags. I don't think it will be a major issue."
Fox News' Ryan Morik contributed to this report.
[title_words_as_hashtags
https://www.foxnews.com/sports/nfl-writer-wants-league-ban-qb-sneak-dumb-play