Logan Paul made a stunning return to the WWE ring on Saturday when he appeared in the 30-man Royal Rumble match in hopes of getting a shot to headline WrestleMania.
Paul appeared recovered from a knee injury he suffered in a title match against Roman Reigns a few months back, and he showed just how well he would move in the ring when he and fellow wrestler Ricochet pulled off an incredible spot during the match as the both bounced off the top of the rope and collided with each other in the middle of the squared circle.
The YouTube star talked about the spot in the latest episode of "IMPAULSIVE."
CLICK HERE FOR MORE SPORTS COVERAGE ON FOXNEWS.COM
"The move was, we both do what's called a springboard, which is where you jump and put your foot on the top rope and use it as a trampoline bounce," he explained. "I can't believe this was possible. When this move was pitched to me, I was like, 'Is that possible?' Generally, when I have that reaction, it's a good thing because if it is, it's incredible. I don't think it's been done before. The wrestling purists will perhaps come down on for me for this one, but I don't think it's been done before, which is what I like to do. I like to chase those moments that are really fresh and innovative and create that social media buzz.
"So, midair, trampoline bounce off the top rope, and me and Ricochet clothesline the s— out of each other at a thousand miles an hour. When we landed, because were also falling from, gotta be 7, 8 feet, man, I crawled out of the ring. I had some time there to sit on the edge. I had some Prime, shout-out to that person. I was refueled, I got back in the ring and managed to finish. But wow this sport is hard, and it hurts, and it's so much fun, and I love it. Yesterday was amazing."
TRAVIS KELCE'S 'JABRONI' REMARK GETS STAMP OF APPROVAL FROM WWE LEGEND WHO COINED IT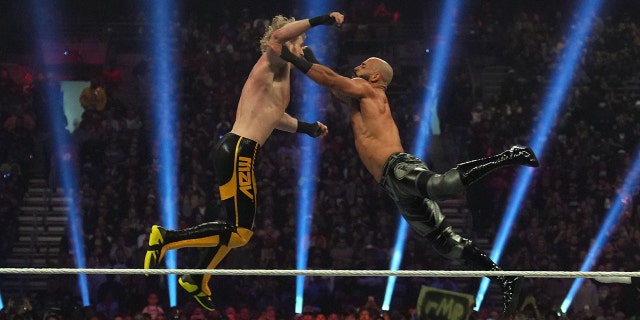 Tuesday appeared to be a busy day for the 27-year-old.
UFC announced a marketing partnership with Paul and fellow YouTuber KSI for their PRIME beverage brand. The partnership included new branding in the Octagon.
"We're excited to name PRIME the Official Sports Drink of UFC and an official partner of the UFC Performance Institute," UFC president Dana White said in a news release. ""Logan and KSI have worked hard to build PRIME into the best-tasting, hottest sports drink on the market. With their massive social media following and UFC's global reach, we're going to get the PRIME brand in front of hundreds of millions of fans all over the world. Whether you're a professional athlete or if you just love working out, PRIME should be your first choice for a go-to sports drink."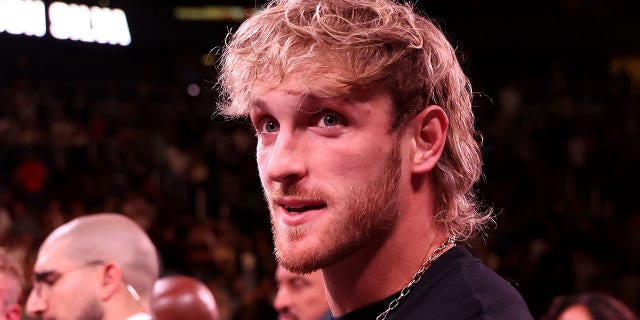 CLICK HERE TO GET THE FOX NEWS APP
The brand deal comes weeks after Jake Paul signed a deal with the Professional Fighters League.
[title_words_as_hashtags
https://www.foxnews.com/sports/logan-paul-talks-intense-springboard-clothesline-royal-rumble-believe-possible