LeBron James was among the Los Angeles Lakers members who were in awe after their loss to the Boston Celtics over a blown foul call at the end of the fourth quarter.
In a 105-105 game with about 4 seconds left, James went to his left and drove down the lane toward the basket. James was surrounded by three Celtics defenders and went up to the basket with his left hand and it appeared he was hit on the arm by Jayson Tatum.
James missed the lay up and there was no foul called on the play. The Lakers superstar was beside himself over the no-call and fell to the floor in disbelief. Patrick Beverley, at one point, came over with a camera to show the referee what he missed. He received a technical foul.
CLICK HERE FOR MORE SPORTS COVERAGE ON FOXNEWS.COM
"I don't understand. I don't understand what we're doing, and I watch basketball every single day," James said after the game. "I watch games every single day and I don't see it happening to nobody else. It's just weird."
Anthony Davis put it more bluntly.
"He fouled him. He fouled him. Clearly. Clearly," Davis said, via the Los Angeles Times. "It's bulls—. But at the end of the day, like, it's unacceptable. And I guarantee nothing is gonna happen to the refs. We got cheated tonight, honestly. 
"It's a blatant foul. Pat got all ball on I think Brown – Jaylen Brown. They call a foul. And Bron gets smacked across the arm [and they don't]. It's unacceptable, to be honest. The refs were bad. They were bad tonight."
The game would go to overtime and Boston would come away with a 125-121 win.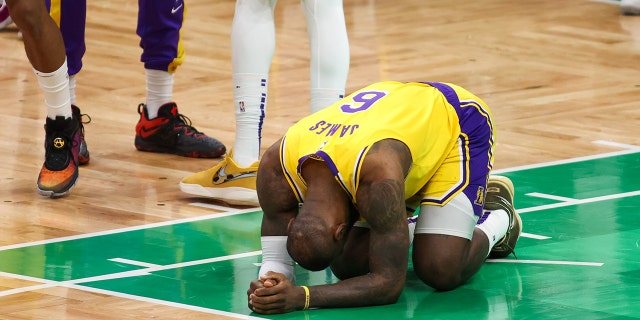 LEBRON JAMES, NBA WORLD REACT TO VIDEO OF POLICE BEATING TYRE NICHOLS: 'WE ARE OUR OWN WORST ENEMY'
James played 44 minutes. He scored 41 points with nine rebounds and eight assists in the loss. Beverley added 15 points, five rebounds, five assists and two steals. Davis came off the bench and scored 16 points and grabbed 10 rebounds. He also had four assists.
Crew chief Eric Lewis admitted after the game the officials missed a call.
"There was contact," Lewis said. "At the time, during the game, we did not see a foul. The crew missed the play."
Lakers coach Darvin Ham added his voice to the mix.
"The best player on Earth can't get a call. It's amazing," he said. "As much as you try not to put it on the officiating, it's becoming increasingly difficult."
Tatum made the technical free throw before the overtime period began. He scored 30 points with 11 rebounds and four assists.
Jaylen Brown scored a team-high 37 points, grabbed nine boards and dished out three assists. He hit a couple of clutch shots to separate Boston from Los Angeles in the overtime period.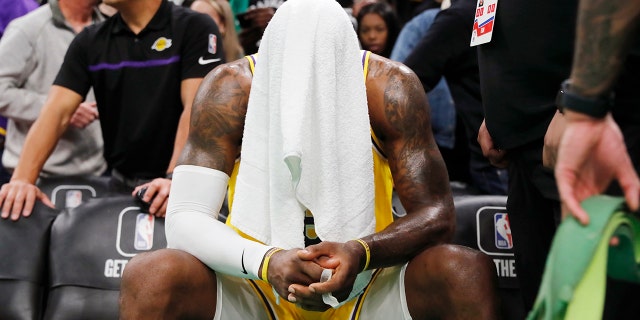 CLICK HERE TO GET THE FOX NEWS APP
Boston moved to 36-15 with the win. Los Angeles fell to 23-27.
The Associated Press contributed to this report.
[title_words_as_hashtags
https://www.foxnews.com/sports/lebron-james-astonished-missed-foul-call-lakers-loss-understand