The NBA community was buzzing Tuesday night after LeBron James surpassed Kareem Abdul-Jabbar as the league's all-time leading scorer, but the Los Angeles Lakers legend took the opportunity to squash his supposed beef with another Lakers legend, Shaquille O'Neal.
Abdul-Jabbar joined the "NBA on TNT" crew to react to James breaking his record, which stood for nearly 40 years, when he directed the conversation to Shaq, telling him that he was always "on your side."
"Hey, I want to tell Shaq, I asked for you specifically this evening because you felt that I was shaming you or ignoring you and that would never be the case," Abdul-Jabbar said. "And you showed them what you were all about, the way you crushed all the centers in the league for a couple of years there. So, I'm on your side, Shaq, don't ever let anybody tell you anything different."
KAREEM ABDUL-JABBAR ADDRESSES LACK OF RELATIONSHIP WITH LEBRON JAMES: 'I BLAME MYSELF'
Shaq responded by telling Abdul-Jabbar that he's never taken issue with him before.
"Hey, listen, you not speaking to me was the best thing to happen to my career because all I wanted to do was impress you, sir," Shaq said. "I will never ever have beef with the great Kareem Abdul-Jabbar. You will never have to worry about that."
"I love you, too, and I want you guys to keep on impressing the whole world with our game. It's a wonderful game," Abdul-Jabbar said before finishing the interview.
Shaq went on to explain during the broadcast that the root of the supposed conflict came from his belief that Abdul-Jabbar never acknowledged him.
CLICK HERE FOR MORE SPORTS COVERAGE ON FOXNEWS.COM
"I'm not a sensitive guy, but he would never look at me, would never talk to me. So, I thought he didn't like me. But I'm the type, I don't get sensitive. 'OK, you not going talk to me? Watch this.' So, it just [carried on]."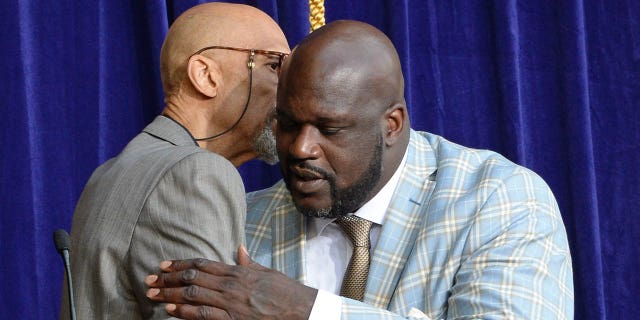 Shaq said he used it as motivation during his career but Abdul-Jabbar once approached him to settle things.
"About four years ago, he pulled me to the side and said, 'Man, I read an article where you said I don't like you. That's not true, I love you.' And he gave me a big hug, and ever since then we've been very close."
CLICK HERE TO GET THE FOX NEWS APP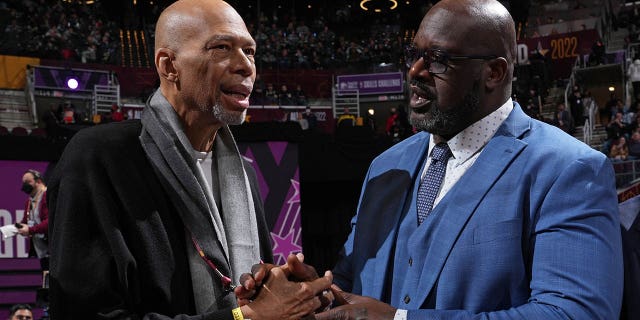 Abdul-Jabbar also wrote about his rocky relationship with James in a Substack article published Wednesday in which he seemingly took responsibility.
"LeBron said we don't have a relationship. He's right — and for that I blame myself," he wrote. "Not for anything I did, but perhaps for not making more of an effort to reach out to him. By nature, I have never been a chummy, reaching-out kind of guy (as the media was always quick to point out). I'm quiet, shy and am such a devoted homebody that you'd think I have agoraphobia."
Abdul-Jabbar also wrote that he was "thrilled" James broke his record.
Fox News' Joe Morgan contributed to this report.
[title_words_as_hashtags
https://www.foxnews.com/sports/lakers-greats-shaquille-oneal-kareem-abdul-jabbar-end-supposed-beef-on-air-im-on-your-side-shaq