The Brooklyn Nets hoped to keep star forward Kevin Durant on the roster after sending Kyrie Irving to Dallas in a trade.
The Nets even informed multiple teams that they were not entertaining trade talks about Durant before Thursday afternoon's trade deadline. But the Nets executed a trade in short order to send Durant to the Phoenix Suns just days after the Irving trade.
The Durant trade had to come together quickly because the forward made it clear to the Nets' organization that he "wanted to move on," according to a report from ESPN.
CLICK HERE FOR MORE SPORTS COVERAGE ON FOXNEWS.COM
The Nets planned to build up the roster around Durant by utilizing the players they acquired in the Irving trade. But it appeared that Durant was not onboard with the plan.
"I can tell you that on Sunday when they traded Kyrie Irving, they [the Nets] didn't think they'd be trading Kevin Durant today," ESPN's Brian Windhorst reported on Thursday.
"Because the Kyrie Irving trade was set up to support players around Kevin Durant and then Kevin Durant did not support it — and very clearly on Monday and Tuesday, he made it clear that he wanted to move on, and they were facing a situation where they were in a rush job."
KYRIE IRVING SWIPES AT NETS AFTER KEVIN DURANT REPORTEDLY TRADED TO SUNS: 'GLAD THAT HE GOT OUT OF THERE'
In exchange for Irving and Markieff Morris, the Mavericks sent Spencer Dinwiddie, forward Dorian Finney-Smith, an unprotected 2029 first-round selection, and 2027 and 2029 second-rounders to Brooklyn.
Durant played a key part in Irving's decision to join the Nets in 2019, but it is unclear what all transpired over the past few days between the All-Star forward and the team.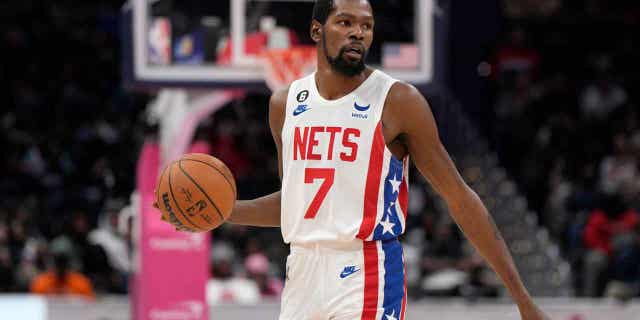 On Thursday, the Suns acquired Durant and Nets forward T.J. Warren in exchange for Mikal Bridges, Cam Johnson, Jae Crowder, four first-round draft picks and a 2028 pick swap.
The Nets will also have unprotected selections in 2023, 2025, 2027 and 2029.
BROOKLYN NETS' KEVIN DURANT REPORTEDLY TRADED TO PHOENIX SUNS
Early Thursday afternoon, Crowder was traded again as he was dealt to the Milwaukee Bucks.
"IT'S TIME TO WORK!!!" Crowder, who played in college at Marquette University, posted to Twitter. "I'M GLAD TO BE BACK HOME!!"
Durant signed a four-year, $198 million extension with the Nets in 2021 and then requested a trade in June 2022. But a trade ultimately did not materialize at the time.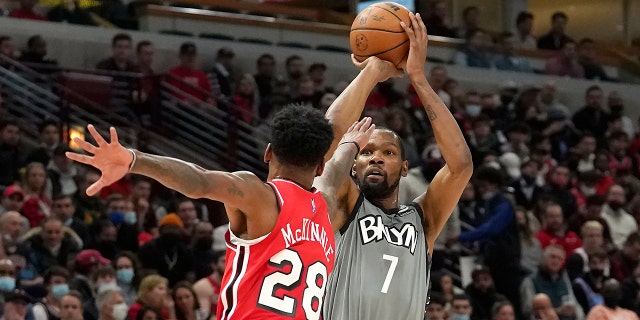 The 34-year-old Durant has been sidelined since early January with a right MCL sprain and has yet to be cleared for contact.
CLICK HERE TO GET THE FOX NEWS APP
In January, Durant was named to his 13th career All-Star team.
[title_words_as_hashtags
https://www.foxnews.com/sports/kevin-durant-informed-nets-that-he-wanted-to-move-on-before-he-was-traded-to-the-suns-report