After Derek Carr landed with the New Orleans Saints on Monday, all gears have shifted for the New York Jets toward Aaron Rodgers. And they are wasting no time trying to get him in their uniform. 
The Jets reportedly flew in owner Woody Johnson's plane to California to meet with Rodgers in person, according to ESPN. 
The Green Bay Packers, who still hold Rodgers' contract rights, have given the Jets permission to speak with the veteran signal caller.
CLICK HERE FOR MORE SPORTS COVERAGE ON FOXNEWS.COM
Rodgers hasn't decided what comes next in his NFL career, but the Jets are certainly giving it their all to pitch Gang Green to the four-time league MVP. He would be entering his 19th NFL season in 2023 – that's if he decides to continue playing football. 
Rodgers recently went on a "darkness retreat" to sit alone with no outside distractions in a setting he felt would give him clarity on what to do next. When he emerged from the retreat, there was no public decision made. 
But, if the Jets are flying to meet with Rodgers, one would assume he is willing to hear them out. 
AARON RODGERS, JETS 'HAD CONVERSATIONS' AS DEREK CARR CHOOSES SAINTS: REPORT
A trade would have to be made between the Packers and Jets, and it may be tricky considering Rodgers has a guaranteed $59.465 million on the books if he plays next season. While it's a $31,623,570 cap hit, he is slated to receive much more. 
However, Rodgers did mention in late January that he is open to renegotiating his deal. 
"There's a lot of teams, because of COVID, that are strapped, and you're seeing with a lot of different contracts, they're pushing more money out in deals," he said, via ESPN. "They're creating void years to allow for an easier cap hit, so there would have to be some adjustments, for sure."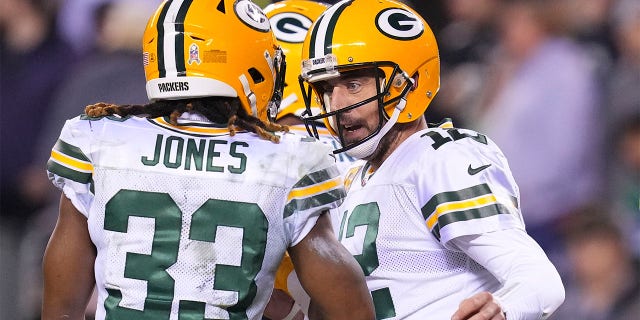 The Jets have had ample cap room these past couple years, which GM Joe Douglas used to bolster both sides of the ball. However, his No. 2 overall pick in 2022, BYU's Zach Wilson, hasn't panned out the way the team hoped. Wilson struggled in 2023, leading to him being benched twice. 
Because of that, Johnson has made it clear that the team is looking for a veteran quarterback to bring into the fold. 
"Well, I think you want the best quarterback that you can get to lead the Jets," Johnson said in February. "And I think with a good quarterback and our great defense – and the defense will be a lot better with a quarterback that's actually doing it, got a good running game and just what the coach is talking about. Our special teams is really good, and so it's plug and play."
NFL STAR DEREK CARR HAS BRILLIANT PUNISHMENT FOR XFL PLAYERS INVOLVED IN MELEE
For a player like Rodgers, the Jets could be intriguing because they have solid weapons on the outside, including the Offensive Rookie of the Year, Garrett Wilson. Breece Hall, another rookie from the 2023 draft class, showcased his talent to be the Jets' workhorse at running back before suffering a season-ending knee injury. He is expected to return in time for the regular season, though. 
And all good quarterbacks can attest that a strong offensive line makes life easier when the ball is snapped. The Jets have that as well.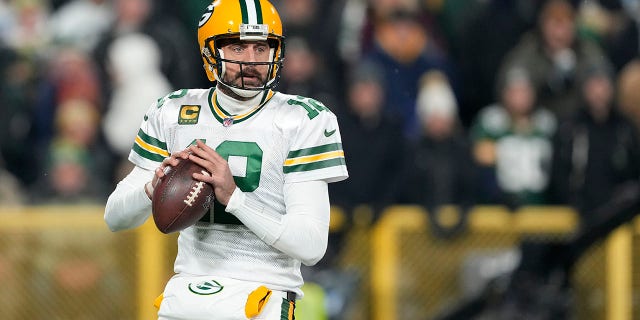 Defensive Rookie of the Year Sauce Gardner was also seen tweeting at Rodgers Tuesday after the news broke. 
"Aye @AaronRodgers12 I promise if you become a Jet, I won't pick you off in practice & I'll burn the cheesehead," he wrote jokingly.
New York was 6-4 after their first 10 games, but lack of consistency at quarterback can be attributed to their second-half struggles, leading to a 7-10 record and another year without playoff football. 
Can Rodgers be the missing piece to break that streak? Can the Jets deliver the right pitch to do so?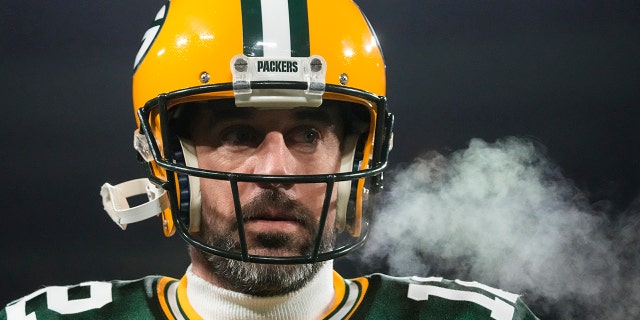 CLICK HERE TO GET THE FOX NEWS APP
Flying out to Rodgers shows the Jets are swinging for the fences.  
[title_words_as_hashtags
https://www.foxnews.com/sports/jets-flying-out-speak-aaron-rodgers-about-trade-report