It isn't every day that college basketball fans see a final score of 112-106. 
It's even less likely fans will see a team rally from 13-points down with under two minutes to play. 
Fans of Iowa and Michigan State were treated to both occurrences Saturday afternoon in Iowa City as the Hawkeyes staged a furious comeback in the final two minutes to defeat the Spartans. 
VIRGINIA TECH CROWD GOES NUTS AS MISSED FREE THROWS TRIGGER PROMO: 'BACON FOR EVERYBODY!'
Down 91-78 with 1:34 left in the second half, Iowa outscored Michigan State 23-10 in the final two minutes, including a clutch game-tying three-point shot from Payton Sandfort to send the game into overtime.
The Hawkeyes outscored the Spartans 11-5 in overtime for the 112-106 win. 
Iowa connected on six of nine three-pointers, including four in a row in the final 1:30 of the second half, to force OT.  
Iowa became just the fourth team to win after trailing by 11 points or more with a minute to play in regulation, according to the NCAA.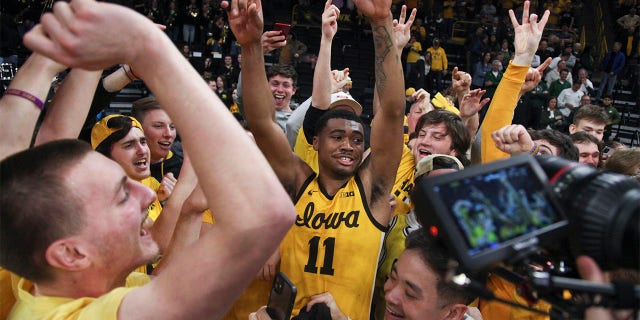 During the rally, Iowa head coach Fran McCaffrey had to be pulled away by one of his assistants during a timeout as he stared down an official following a technical foul.
Despite a season-high in points, the Spartans were unable to leave Carver-Hawkeye Arena with a victory.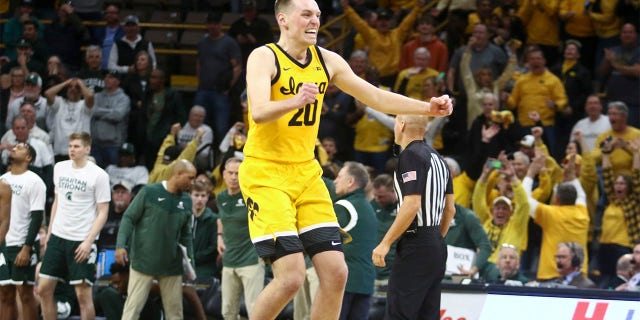 Michigan State shot 11-15 from beyond the three-point line, 59.3% from the field, and made 31 of 36 free throws they attempted. 
Iowa had five players score in double digits, including junior forward Kris Murray, who finished the day with 26 points, eight rebounds, four assists and three steals.
[title_words_as_hashtags
https://www.foxnews.com/sports/iowa-completes-improbable-comeback-against-michigan-state-hawkeyes-head-coach-gets-stare-down-ref