Several possible quarterbacks were drafted after Tom Brady and retired before him. Brady spent more than half his life in the NFL. As a matter of fact, no other QB drafted in 2000 played an NFL game past 2011, but Brady beat them by over a decade.
The 2000 NFL Draft Class isn't star-studded – there are only 28 Pro Bowlers and just one Hall of Famer (Brian Urlancher) in that entire draft – but there were six quarterbacks taken before Brady that year (oh, and kicker Sebastian Janikowski was the 17th overall pick by the Oakland Raiders – Brady went 199th).
Oof.
Surely, plenty of teams have been kicking themselves for the better part of two decades, because even the second-best quarterback in this class didn't have one-eighth of the career Brady had.
But it sure is fun to look at what everyone else did. So without further ado, let's take a look at Tom Brady's fellow quarterbacks from his 2000 NFL Draft class.
CLICK HERE FOR MORE SPORTS COVERAGE ON FOXNEWS.COM
Chad Pennington (Round 1, Pick 18, New York Jets)
The Jets' near and long-term future was decided in this draft, but not because of their own pick. How were they supposed to know their biggest antagonist in franchise history would be selected 181 picks later?
Pennington certainly had a decent career. He finished in second place in the MVP vote in 2008 (with the Miami Dolphins), and he won not one, but two Comeback Player of the Year Awards. He led the Jets to playoff appearances in 2002, 2004 and 2006, but was never able to get past the divisional round. Meanwhile, by the time Pennington's time with Gang Green was up, Brady had already won three Super Bowls. Brady's Pats also beat Pennington's Jets, 37-16, in the 2006 postseason.
In his seven seasons as a full-time starter (2002-2008), the Marshall alum completed 66.2% of his passes, throwing 99 touchdowns and 62 interceptions. His 16-game average in that span was 3,572 yards, 21 scores, and 13 picks.
Giovanni Carmazzi (Round 3, Pick 63, San Francisco 49ers)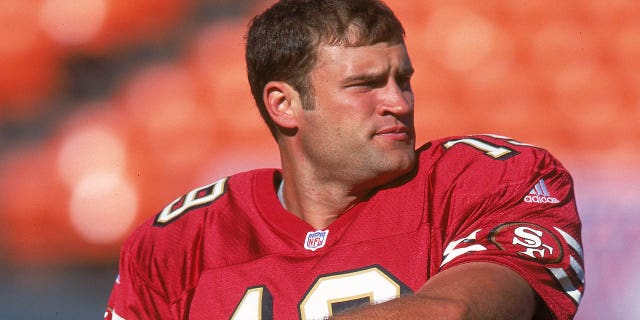 Carmazzi never played an NFL game in his two seasons as a backup after being drafted out of Hofstra. He played one season in the now–defunct NFL Europe and made two Canadian Football League rosters. 
Imagine the lineage of Joe Montana to Steve Young to Tom Brady. Oh, what could have been.
By the way, Brady still despises the 49ers, his favorite team growing up, for picking Carmazzi over him.
"I lost my allegiance for the Niners when they skipped over me six times 22 years ago and drafted Giovanni Carmazzi after they had me do a local workout with Steve Mariucci and decided I wasn't good enough to play there," Brady said on his podcast last year. "After that decision was made I could really care less about 49ers football, other than saying that that's the team that I loved growing up."
Chris Redman (Round 3, Pick 75, Baltimore Ravens)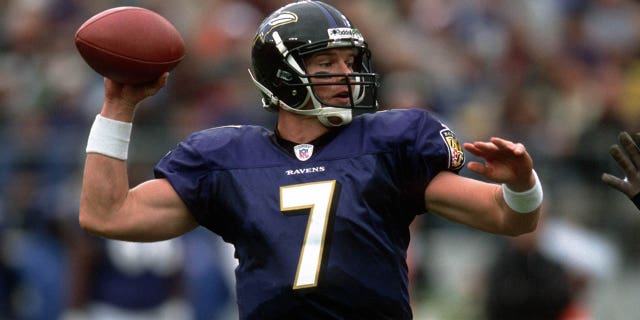 TOM BRADY ANNOUNCES RETIREMENT DECISION IN EMOTIONAL VIDEO
Redman managed to be a backup through 2011 for both the Ravens and Atlanta Falcons. In fact, he earned a Super Bowl ring in his rookie season, as Trent Dilfer and the Ravens beat the New York Giants in Super Bowl XXXV, 34-7.
The Louisville Cardinal actually took four years off from the NFL before returning to Atlanta in 2007 – he even was on the Patriots' practice squad in 2004, so he can say he was teammates with Brady.
Tee Martin (Round 5, Pick 163, Pittsburgh Steelers)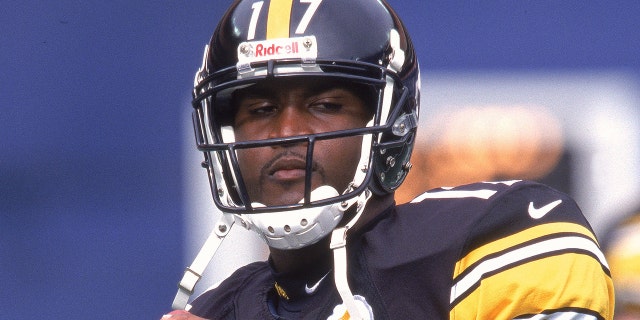 Martin led his Tennessee Volunteers to the 1998 National Championship after succeeding Peyton Manning, but his pro career wasn't nearly as successful.
In fact, Martin played in just three NFL games (one with the Steelers, two with the Raiders). He was 6-for-16 for 69 yards and a pick in his career before also playing in both NFL Europe and the CFL. He's now a wide receivers coach with the Baltimore Ravens.
Marc Bulger (Round 6, Pick 168, New Orleans Saints)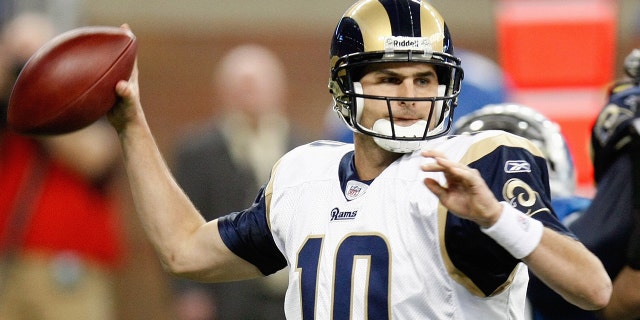 All right, now we're back to someone we all definitely know. In fact, Bulger actually might be ahead of Pennington as the second-best quarterback in this class.
Bulger was drafted out of West Virginia by New Orleans, but did not make their final roster, and didn't make his debut until 2002 with the St. Louis Rams, where he was more than serviceable. In his first full season, he went 12-3 as their starter, earning his first Pro Bowl nod. He got another one three years later, where he posted a career-high 4,301 passing yards.
He spent his entire career with St. Louis, hanging up the cleats in 2009. He threw for 22,814 yards in his career with 122 touchdowns and 93 interceptions.
Spergon Wynn (Round 6, Pick 183, Cleveland Browns)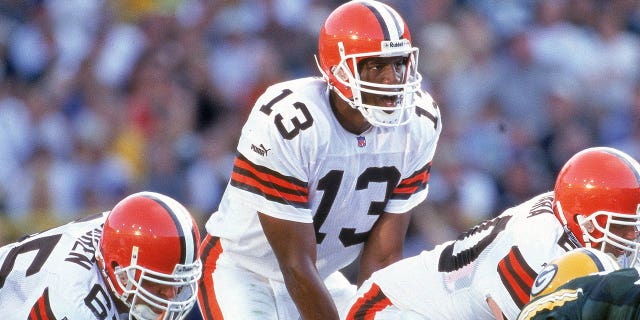 GISELE BÜNDCHEN SENDS HEARTFELT MESSAGE TO TOM BRADY FOLLOWING RETIREMENT ANNOUNCEMENT
Poor Browns. Sixteen picks before Brady, they took Spergon Wynn.
He appeared in 10 games, seven of them with Cleveland, but it was his three games with the Minnesota Vikings the next season that really tells the story.
He played in three games – two of them starts – and went 48-for-98 (49%) with one touchdown and six interceptions.
The former Texas State Bobcat tried for NFL Europe and the CFL, apparently a common thing to do for these 2000 quarterbacks.
And the Cleveland Browns have been a QB hell ever since – they better hope Deshaun Watson works out.
Todd Husak (Round 6, Pick 202, Washington)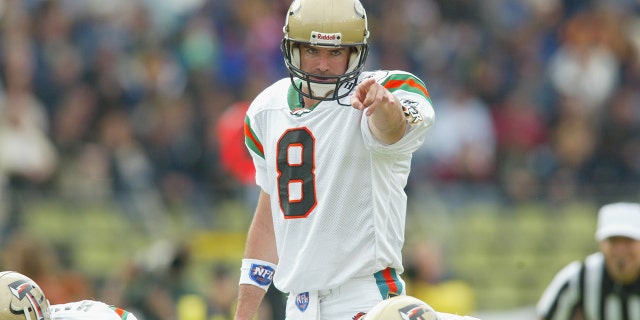 Good news: Todd Husak has a 100 completion percentage in the NFL.
Bad news? He threw for negative-two yards in his one game played.
At least Washington can say they took the former Stanford QB after Brady, so they were in no-man's land. He also was a First-team All-Pac-10 player in 1999.
Ja'Juan Seider (Round 6, Pick 205, San Diego Chargers)
Seider did not appear in an NFL game, but has been a successful coach. He is currently the co-offensive coordinator and running backs coach at Penn State.
Tim Rattay (Round 7, Pick 212, San Francisco 49ers)
San Francisco apparently wanted to stock up on quarterbacks after the lefty Young retired.
Apparently, the Pats were very close to taking Rattay from Louisiana Tech over Brady. Maybe Rattay's career turns out a bit differently if he teams up with Bill Belichick, but instead, he played in just 40 games (18 starts) with the Niners, Tampa Bay Buccaneers and Arizona Cardinals.
In those starts, he completed 60.8% of his passes for 3,941 yards, throwing 24 touchdowns and 18 interceptions.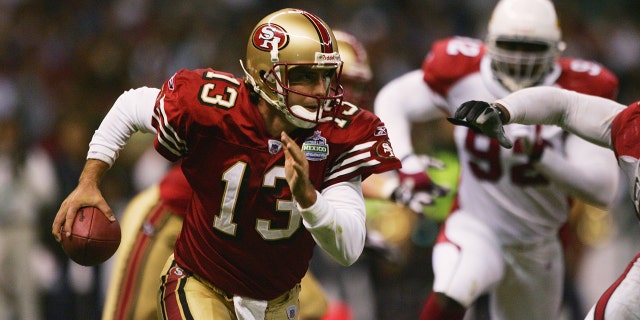 CLICK HERE TO GET THE FOX NEWS APP
Jarious Jackson (Round 7, Pick 214, Denver Broncos)
Jackson played in just five games from 2000 to 2003, but he did win four Grey Cups in the CFL. Jackson was a standout at Notre Dame before being drafted.
Joe Hamilton (Round 7, Pick 234, Tampa Bay Buccaneers)
Hamilton is a College Football Hall of Famer after his career at Georgia Tech, however, he only played in one NFL game. He was, though, on the roster for the Super Bowl XXXVII-winning Bucs team before giving it a whirl in NFL Europe and the Arena Football League.
[title_words_as_hashtags
https://www.foxnews.com/sports/how-tom-bradys-fellow-class-2000-quarterbacks-fared-nfl