Former minor league pitcher Peter Bayer has spent his life loving the game of baseball.
And now all he wants is to be welcomed back into the sport.
Bayer finds himself in a frustrating situation that intertwines the growing world of sports betting and the gray area surrounding it.
For the second year in a row, Major League Baseball and Commissioner Rob Manfred have placed Bayer on the league's Ineligible List. His crime? Placing online baseball bets when he was a Minor League Baseball player in 2020. However, that year there was no MiLB season; it was canceled due to the pandemic.
CLICK HERE FOR MORE SPORTS COVERAGE ON FOXNEWS.COM
During the time off and with no contract, Breyer admitted to placing a handful of sports bets; MLB's rule book says that Bayer should have only been suspended one year.
So why is he now going on the third year of not being able to be involved in baseball whatsoever?
Bayer believes it may have to do with the fact that he was actively outspoken against the league and some teams for refusing to pay or cutting back on minor league salaries. He was a main proponent in MiLB eventually becoming unionized last year, something MLB fought for years.
Could Manfred and baseball be using Bayer as an example to others? They argue that Bayer has done more than just sports betting by issuing a statement that includes a vague "other misconduct" claim.
Meanwhile, Major League Baseball continues massive partnerships worth upwards of hundreds of millions of dollars with online sportsbooks.
In an interview with OutKick, Bayer explained his frustrating situation that may serve as a warning to other athletes, perhaps at his own expense.
BAYER'S STORY GOES LIKE THIS…
In 2020, Peter Bayer was an aspiring minor league baseball player who was signed with the Oakland Athletics High-A team. It looked like Bayer was on track to be promoted to Double-A that season.
However, there never was a season that year because of the COVID-19 pandemic and subsequent shutdowns. Major League Baseball eventually had a shortened season that began on July 23 for a total of 60 games, and then playoffs. Minor League Baseball never played.
Bayer says that when Minor League Baseball canceled the season, all the players received letters that their contracts were suspended.
MINOR LEAGUE BASEBALL'S ENTIRE 2020 SEASON CANCELLED
Not only were all MiLB contracts suspended in March of 2020, but the Athletics were one of a few teams that announced that they wouldn't be paying their minor league players after May 31.
"Unfortunately, considering all of the circumstances affecting the organization at this time, we have decided not to continue your $400 weekly stipend beyond May 31," read an email sent by GM David Forst at the time. "This was a difficult decision and it's one that comes at a time when a number of our full-time employees are also finding themselves either furloughed or facing a reduction in salary for the remainder of the season. For all of this, I am sorry."
Bayer was a player who actively spoke out against this.
(Just a few weeks later, Athletics owner John Fisher changed his position and agreed to pay minor leaguers after a public outcry – including from players like Bayer. Fisher is worth an estimated $2.2 billion.)
MINOR LEAGUE PLAYERS WERE FINANCIALLY STRUGGLING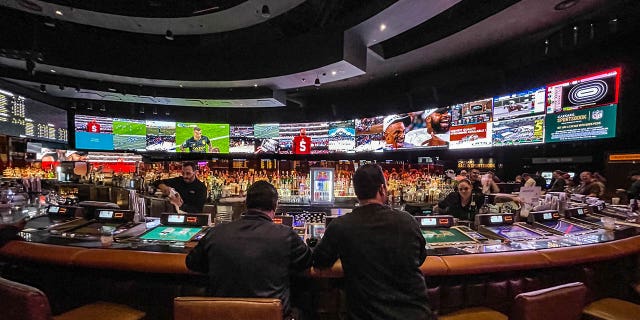 A 2020 Sports Illustrated story documented Bayer having to pick up multiple jobs, including being a DoorDash delivery driver just to try and get some additional income. He estimated that in 2019 he made about $1,500 before taxes playing an entire season in High-A.
It's important to note that during this time, Bayer and players were collecting state unemployment because they didn't have a contract. He also wasn't receiving health benefits from the league. He was by all appearances laid off or furloughed.
"We got an email from MLB saying all Minor League contracts were suspended. So I figured I could bet on some baseball on FanDuel and DraftKings." He says that he bet on about 30-40 different baseball games throughout July and August. (MLB officially started their shortened season in July).
He resides in Colorado, which officially opened online sports betting on May 1, 2020.
In October, the Athletics officially released Bayer as part of the expected Covid-related restructuring.
The Cincinnati Reds signed Bayer just a few months later in January of 2021 but he soon was contacted by MLB that he would be under investigation for his sports betting.
Bayer believes that because he was essentially a regular citizen – with no contract, no benefits and no job, that he shouldn't continue to be punished for his sports bets, more than what MLB's rule states.
MLB PUNISHES BAYER
A few weeks after the Reds signed Bayer, the Colorado Gaming Commission "flagged" Bayer's name and informed Major League Baseball of his prior betting activity from the summer before that ended in August. MLB and the Commissioner's office informed Bayer that he was under investigation.
They first placed him on a "Restricted / Investigative List," which prevented him from signing or being a part of any MLB organization in 2021. He was able to reapply after the subsequent World Series that year.
MLB then placed him on the "Ineligible List," which once again would not let him be a part of baseball in any capacity for the 2022 season.
Then, three weeks ago, Commissioner Manfred once again put him on the Ineligible List, totaling 3 seasons that Bayer hasn't been allowed to play baseball.
BAYER BELIEVES HE'S BEING MADE AN EXAMPLE OF
Under MLB's own rules, it appears that Bayer should have been only placed on the ineligible list for one year, not the two-plus that's already happening.
'In Rule 21 (D), MLB states that:
"Any player, umpire, or Club or League official or employee, who shall bet any sum whatsoever upon
any baseball game in connection with which the bettor has no duty to perform, shall be declared
ineligible for one year."
MLB'S STRANGE REASONING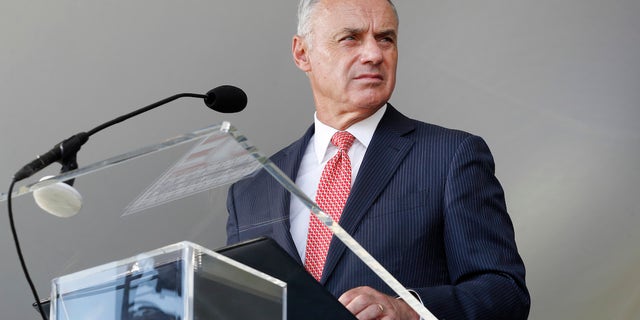 In a statement, MLB and the Commissioner's Office said, "After a thorough investigation, it was determined that Mr. Bayer repeatedly bet on baseball in violation of Major League Rule 21 and MLB's policy on sports betting and engaged in other misconduct that was not in the best interest of baseball. Therefore, he was placed on the ineligible list, where he remains."
The "in other misconduct," part is interesting.
OutKick has reviewed a letter first obtained by The Athletic sent to Bayer from Commissioner Manfred on April 11, 2022, that alleged that in addition to the sports betting allegations, Bayer threatened a state gaming regulator that he would "take this to the media," as well as allegedly denied making bets to an MLB executive. Bayer admitted to OutKick that he did write an email to the regulator insinuating that he would escalate the situation by bringing it to the press, but denied he was threatening him. He also says that he never lied to the MLB Executive – in fact he says he did the opposite. Bayer said that he admitted to the Executive in an email that he had bet during that suspended season and apologized for "making a mistake."
After receiving MLB's April 11 letter, Bayer and his attorney met with Major League Baseball multiple times via Zoom to clarify some of the alleged infractions. Bayer said that regarding the sports betting situation, MLB failed to disclose to him and his attorney information regarding their wager claims [MLB claims Bayer wagered 100's of bets, which Bayer denies. There also is a dispute over how much was wagered. Bayer and his attorney asked MLB to provide this evidence, which they never did.]
Interestingly, when the Commissioner finally released the official Ineligible ruling for Bayer two weeks later on April 25, it did not mention any of the individual charges, but rather made it the more vague and broad "other misconduct."
That's what Bayer has an issue with. He believes that "other misconduct" is now based around MLB trying to make an example of him because of his vocal criticism trying to get MiLB players more rights, and eventually a union. OutKick reached out to MLB multiple times but did not receive a response.
WHY IS MLB TREATING BAYER DIFFERENTLY?
"I was on the forefront, on the front lines of all of that stuff [more player's rights] for years. I was working with MiLB advocates who were able to eventually get the MLBPA to help represent MiLB athletes by the Players Association," Bayer told OutKick.
And it worked. After Bayer and others began getting more attention for calling out MLB, the league raised minor league wages in 2021, with Class A players getting nearly a $200 weekly raise.
In 2022, Major League Baseball's Players Association officially unionized Minor League Baseball players, which is exactly what Bayer had fought for.
He says he is now paying the price by not being allowed back in baseball, despite having served the official rule book's punishment.
"What I did possibly gave them a reason to say 'We've had enough of this guy…' because honestly they are able to do whatever they want," Bayer said.
CLICK HERE TO GET THE FOX NEWS APP
BAYER JUST WANTS HIS REPUTATION BACK
Bayer said he completely understands and didn't have an issue with the one-year suspension. "I told them that if this was what the clause said that I would serve the one-year suspension, similar to what happened to [NFL player] Calvin Ridley."
He also admitted to being at fault for not clearly understanding what the unusual, once-in-a-lifetime scenario of MiLB canceling an entire season fully meant.
"But they now won't let me back into the game," Bayer explained.
He's now fighting for his reputation and to somehow be allowed back into the sport in some capacity, even if not being an active player.
[title_words_as_hashtags
https://www.foxnews.com/sports/ex-minor-leaguer-peter-bayer-contends-mlb-unfairly-punishing-him-betting-baseball-during-2020-season