Kansas City Chiefs assistant Eric Bieniemy is reportedly a top candidate for the Washington Commanders' offensive coordinator job as debate over whether he's been "screwed" out of head-coaching positions rose again.
Bieniemy went through another cycle without landing a head-coaching job even as the team won the Super Bowl for the second time since the 2019 season. The NFL Network reported Wednesday he's the "top candidate" for the Commanders position.
Bieniemy has been in the Chiefs' organization since 2013. He started as the team's running backs coach and was elevated to offensive coordinator in 2018. But as he's been a coaching candidate for teams over the last few seasons, he's failed to attain the new role of head coach.
Earlier this week, CNN's Jake Tapper and broadcaster Bob Costas wondered whether Bieniemy being Black had anything to do with it.
CLICK HERE FOR MORE SPORTS COVERAGE ON FOXNEWS.COM
"Would Eric Bieniemy be a head coach today if he were White?" Tapper asked Costas.
Costas responded, "I think you would have to conclude that as likely."
Costas added that Bieniemy has interviewed 15 times with 14 different teams over the last few years but has remained under coach Andy Reid. Bieniemy was up for the Colorado Buffaloes coaching job in the Pac-12 but turned that down. 
Among those teams, since 2019, the New York Jets hired Robert Saleh, the Houston Texans hired David Culley and Lovie Smith and since made DeMeco Ryans their head coach and the Miami Dolphins went from Adam Gase to Brian Flores to Mike McDaniel.
Among the others teams Bieniemy interviewed with since 2019, the Cincinnati Bengals went from Marvin Lewis to Zac Taylor; the Tampa Bay Buccaneers promoted Todd Bowles to head coach after Bruce Arians stepped down; the Arizona Cardinals went from Steve Wilks to Kliff Kingsbury to Jonathan Gannon; the Carolina Panthers went from Ron Rivera to Matt Rhule to Frank Reich (Wilks served as interim head coach); the Cleveland Browns went from Freddie Kitchens to Kevin Stefanski; the New York Giants went from Pat Shurmur to Joe Judge to Brian Daboll; the Atlanta Falcons went from Dan Quinn to Arthur Smith; the Jacksonville Jaguars went from Doug Marrone to Urban Meyer to Doug Pederson; the Los Angeles Chargers went from Anthony Lynn to Brandon Staley; the Philadelphia Eagles went from Pederson to Nick Sirianni; the Denver Broncos went from Vic Fangio to Nathaniel Hackett to interim coach Jerry Rosburg to Sean Payton; the New Orleans Saints eventually promoted Dennis Allen, and the Indianapolis Colts went from Reich to Shane Streichen.
Pederson and Matt Nagy were both used as examples of coaches who have gotten jobs after coaching under Reid for several seasons. Pederson won a Super Bowl but that didn't earn him enough credit to stick with the Philadelphia Eagles.
Rivera, Bowles, Culley and Leslie Frazier were all assistants under Reid as well and got head-coaching jobs too. Though Culley entered a Houston Texans organization that was mired in scandal behind the Deshaun Watson saga.
"You don't necessarily want to jump to any conclusions but the evidence here, certainly suggests a conclusion," Costas said.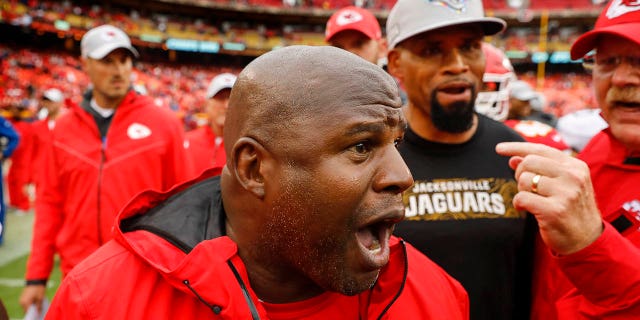 Tapper said he was "looking at his merit" when talking about whether Bieniemy deserved a chance to be a head coach.
"And I say, 'Why hasn't somebody snatched him up?'" Tapper said.
BRITTANY MAHOMES, WIFE OF CHIEFS STAR QB, DEMANDS APOLOGY AFTER SUPER BOWL
The CNN anchor pointed to a USA Today column vouching for Bieniemy's candidacy, which alleged the longtime coach "will likely get screwed again." He also mentioned the several coaches who are suing the NFL and alleging discriminatory practices. Brian Flores and Steve Wilks being two of them. 
Flores launched the lawsuit after failing to get a head coaching gig. He later joined the Pittsburgh Steelers as an assistant under Mike Tomlin and was hired as the Minnesota Vikings' defensive coordinator during this recent cycle. Wilks was promoted to interim head coach under the Carolina Panthers this season and after he wasn't retained he was hired as the San Francisco 49ers' defensive coordinator.
"It's hard to argue that's not playing a role here," Tapper said in Bieniemy's case.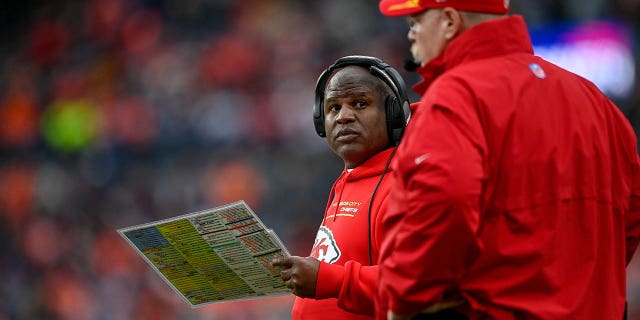 Costas agreed, saying "You have to believe it plays some role."
"Those who might look and say there's another reason – he has Patrick Mahomes, he has Travis Kelce, he's under Andy Reid – but Josh McDaniels had Tom Brady and he was under Bill Belichick and he was associated with all that success and so the Denver Broncos hired him. He didn't even last two seasons, didn't do so well, went back to New England, and now he's getting a second chance as a head coach with the Raiders.
PATRICK MAHOMES JUMPS INTO CHIEFS-EAGLES TWITTER BATTLE AFTER SUPER BOWL LVII
"My point there is Bieniemy and Josh McDaniels pretty much line up. They were with Hall of Fame coaches and Hall of Fame quarterbacks… One got two jobs. The other is still waiting for his first head coaching job.
"The circumstantial evidence here points in a certain direction."
Bieniemy has been in football for a long time. He was a standout at Colorado and was a Heisman Trophy finalist in 1991. Despite serious legal issues during his time with the Buffaloes, he was a second-round pick of the San Diego Chargers in 1991 and had a nine-year run in the league.
He returned to Colorado as the running backs coach and was at the position at UCLA and the Minnesota Vikings. He went back to Colorado in 2011 and was there for two seasons before joining the Chiefs.
Since Reid was installed as head coach and Mahomes was named the starting quarterback, the offense has been in the top 10 in points scored and yards gained in every season since.
Reid, though he calls plays and designed the offense, has vouched for Bieniemy to get a head-coaching job but has admitted maybe Bieniemy needed to go to a different team to prove himself even further. The Commanders are reportedly one of the team's targeting Bieniemy for their offensive coordinator role. He would serve under Rivera – who is primarily a defensive-minded coach.
In 2021, Bieniemy addressed the issue.
CHIEFS' PATRICK MAHOMES DELIVERED PASSIONATE HALFTIME SPEECH TO HELP JUMPSTART SECOND HALF COMEBACK
"I did not ask to be the poster boy of this particular situation that I have experienced," he said at the time. "At the end of the day, the only thing that you want to do is be recognized with all the things that you've accomplished, and for whatever reason that has not happened. That's OK, because the only thing I know what to do is to just go back to work and continue chopping wood."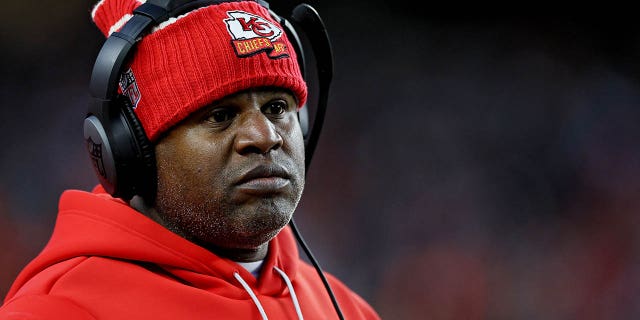 At least one player has come out and said they didn't like playing under Bieniemy – former running back LeSean McCoy.
"There's a reason why every year they hype him up to get a job and then when the time comes, nobody hires him because they know the type of coach he really is," McCoy said on the "I AM ATHLETE" podcast last May.
McCoy added that he took issue with how Bieniemy talked to players in a "certain way."
CLICK HERE TO GET THE FOX NEWS APP
In September, when Mahomes and Bieniemy had a public spat, McCoy said the coach knew "nothing about passing or play calling."
[title_words_as_hashtags
https://www.foxnews.com/sports/eric-bieniemy-top-candidate-assistant-job-debate-rises-whether-race-issue-head-coach-gig