Many argue that Nick Sirianni was snubbed from being a Coach of the Year finalist despite his Philadelphia Eagles going 14-3, but a New York Giants safety thinks it's justified.
Julian Love says all Sirianni had to do was sit back and enjoy.
"He's in for a free ride right now. You guys can coach this team," he said on Thursday's "Good Morning Football."
CLICK HERE FOR MORE SPORTS COVERAGE ON FOXNEWS.COM
Love did give credit to Sirianni for not doing too much and not getting in the way of his team, which he says is one of the best in football.
"He's a guy who really is doing a good job because he's not getting in the way of his team," Love said. "He has an experienced roster from top to bottom – offense, defense…
"They have a talented roster, and he is just doing the best thing he can do. I think it's a players' league, and he's just taking a step back and letting his team play."
Love's own head coach, Brian Daboll, is a finalist, along with Jacksonville Jaguars' Doug Pederson and San Francisco 49ers' Kyle Shanahan.
NFL PLAYERS REVEAL THEIR REACTIONS TO THE 'SCRIPTS' THEY WERE GIVEN: 'I ALMOST WALKED OUT OF THE FACILITY'
Sirianni's Eagles just took down the Niners in the NFC Championship to clinch their second Super Bowl appearance in five years. The Eagles also dominated the Giants, 38-7, in the divisional round.
In fact, the Eagles won all three meetings against Big Blue this season.
Eagles' Brandon Graham fights back
Brandon Graham is not afraid of a war of words, so when he heard Love's comments, he gave his own two cents.
"People always got something to say when they're at home," Graham told reporters of what Love said on Thursday. "They've got some stuff to think about…. A lot of people are just mad because of what happened this season.
"I understand, but it definitely carries no weight, because Coach proved himself each and every day, and if you're not in here, you really wouldn't know that."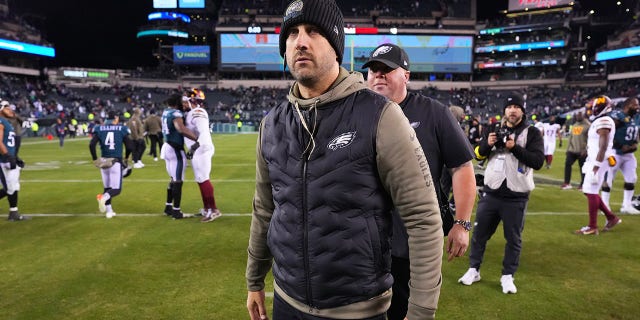 CLICK HERE TO GET THE FOX NEWS APP
The Eagles face the Kansas City Chiefs in Super Bowl LVII on Feb. 12.
[title_words_as_hashtags
https://www.foxnews.com/sports/eagles-nick-sirianni-free-ride-super-bowl-giants-safety-says