The Philadelphia Eagles will make their fourth Super Bowl appearance on Sunday when they take on the Kansas City Chiefs at State Farm Stadium in Glendale, Arizona.
Philadelphia had been on top of the NFL world for most of the season. The Eagles won their first eight games and went on to win the NFC East and land the No. 1 seed in the playoffs. Philadelphia dominated the New York Giants and San Francisco 49ers on its way to the Super Bowl and have a tough challenge to face in the Chiefs and Patrick Mahomes.
It won't be easy, but former Eagles star running back Brian Westbrook is ultra-confident Philadelphia will fly back east with the Vince Lombardi Trophy in hand.
CLICK HERE FOR MORE SPORTS COVERAGE ON FOXNEWS.COM
"I'm very confident. I love the way this team has been constructed. I love the way this team has played together all season long. They've done something from the beginning of the season to now that you just don't see very often," Westbrook explained in a recent interview with Fox News Digital. 
"You've seen the team continue to get better, but they were solid to start with, and you've seen a lot of different things. You've seen games where offensively you had to run the ball to win and dominate the team offensively that way. The short pass game has won games, taking the shots down the field have won games, defensively they've won games. They've made changes, and they made differences on the defensive side of the ball. They won football games in a lot of different areas. It's hard and very rarely that you see teams dominate opponents throughout the season. And that way this team has just done a great job of putting the pieces together to have successful game after successful game this season."
The emergence of Jalen Hurts has been one of the catalysts for the Eagles' success.
Before suffering an injury, Hurts was in the MVP conversation. He was making plays with his arms and legs and finding A.J. Brown and DeVonta Smith regularly. Sure, the injury toned down the conversation, but his numbers from 2021 to 2022 speak for themselves.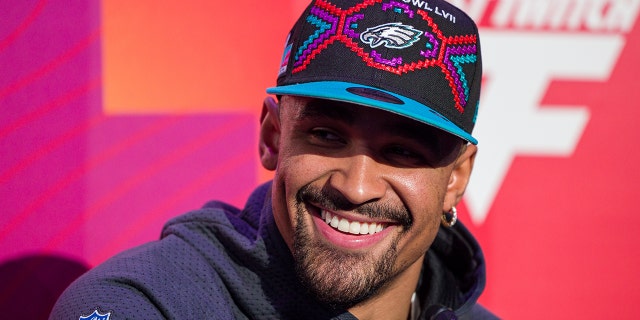 PATRICK MAHOMES WINNING SECOND SUPER BOWL WOULD IGNITE TOM BRADY COMPARISONS, EX-CHIEFS STAR SAYS
Hurts had 3,701 passing yards and 22 touchdown passes. He only had six interceptions. On the ground, he was the team's second-leading rusher with 760 yards and 13 rushing touchdowns. He is the first quarterback in NFL history with at least 10 rushing touchdowns in back-to-back seasons.
He managed to cut through all the noise and scrutiny to produce one of the best seasons the Philadelphia quarterback has had in recent memory. Westbrook told Fox News Digital he did not think any of that outside talk was a factor.
"I don't know that the noise bothers him at all," the Eagles legend said. "I don't know that Jalen Hurts is bothered by people saying anything about him. He's a guy that has a chip on his shoulder and has been a playmaker throughout his career, college, high school, as well as the NFL, and he just goes out there and plays. That's what you really want from a quarterback – go out there and play your game and understand that your game is enough. He's been able to produce with his legs, with his arm. 
"He's a much better leader than he is a player and he's a very good player. It's been amazing to watch his development from last year to what he's been able to do this year. Last year, he was limited in so many different things but this year there has been no holes in his game. That speaks to his resiliency."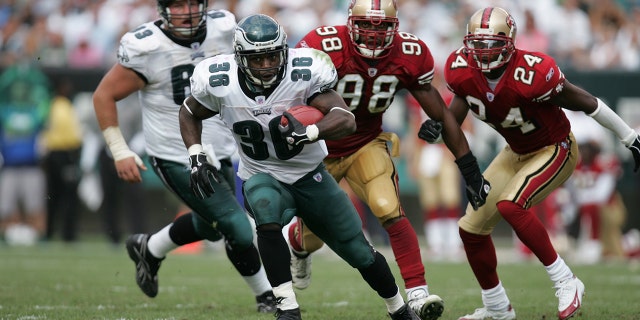 Hurts will be one of a handful of players who will be making their first Super Bowl appearance. Some guys like Brandon Graham and Fletcher Cox were on the 2017 team when Nick Foles and Doug Pederson were guiding the team.
PATRICK MAHOMES' FATHER 'PROUD' HE'LL GET TO SEE HIS SON MAKE NFL HISTORY AT SUPER BOWL LVII
This year's iteration has some new faces – but the goal is the same.
Westbrook himself only played in one Super Bowl – unfortunately for him, it turned out to be against the greatest NFL player of all time in Tom Brady. 
"Well, it's going to be a long day," he told Fox News Digital when asked what advice he'd have for the guys who have never been there before. The game is going to seem like it's going to take forever to get to. And then when you get to the game, it kind of goes fast. I would always take a deep breath, look around, make sure that you understand the environment and the magnitude of the game and then go out there and play football. 
"You guys have been playing football 18-19 games this season already. You have been playing football your entire life. This is another football game. It's the biggest football game and probably the most important and impactful football game that you've ever played. But it is, when you come down to it, blocking and tackling, catching the football and running. And if you can do those things the right way on a high level, you have a chance to be a Super Bowl champion."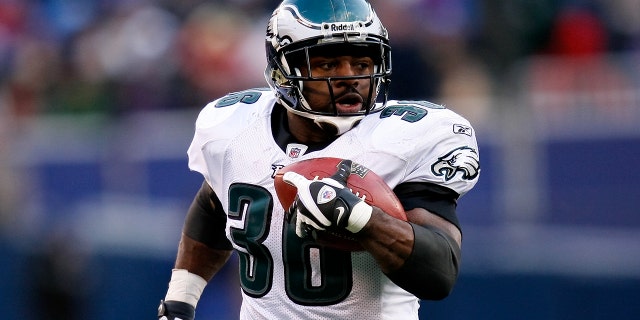 Westbrook is hoping he will get a chance to bring Philly fans some adult refreshments should the Eagles top the Chiefs on Sunday. He partnered with Bud Light for the company's "Bring Home The Bud Light" campaign. Fully-stocked Bud Light trucks will head to Kansas City and Philadelphia to prepare for the potential parties. Fans also have a chance to win free Bud Light by tweeting #easytoenjoy and #sweepstakes to enter the contest for their party.
CLICK HERE TO GET THE FOX NEWS APP
The former NFL player said he was allowed to "help load the truck" and "drive the forklift" to get the Bud Light loaded and seemed very confident Philly will be taking part in a Super Bowl parade.
[title_words_as_hashtags
https://www.foxnews.com/sports/eagles-great-brian-westbrook-very-confident-team-win-super-bowl-shares-advice-newcomers