If not for CPR, Buffalo Bills safety Damar Hamlin wouldn't have had his heartbeat restored at Paycor Stadium weeks ago. 
That realization prompted Hamlin to launch a CPR challenge, which he announced is partnered with the American Heart Association.
"The Damar Hamlin 3 for Heart" challenge is similar to the viral "Ice Bucket Challenge," which raised awareness and funding for ALS research. Hamlin wants people to shoot videos of themselves performing the challenge and tag friends to spread the word. 
CLICK HERE FOR MORE SPORTS COVERAGE ON FOXNEWS.COM
"I want to thank everybody for their love and support over these past few weeks," Hamlin said. "As you know, CPR saved my life earlier this year on the field, and CPR could easily save your life or someone you love.
"I'm proud to announce I'm partnering with the American Heart Association and kicking off Damar Hamlin's 3 For Heart CPR Challenge. And, of course, this one's got three steps."
DAMAR HAMLIN MAKES FIRST VIDEO COMMENTS SINCE CARDIAC ARREST: 'DIRECT EXAMPLE OF GOD USING ME'
The first step is to go to heart.org/3, which will feature a short video to learn hands-only CPR. Second, Hamlin asks for donations to the AHA to fund CPR awareness and education. 
Finally, tag three friends to do the same, and he chose some pretty powerful personalities.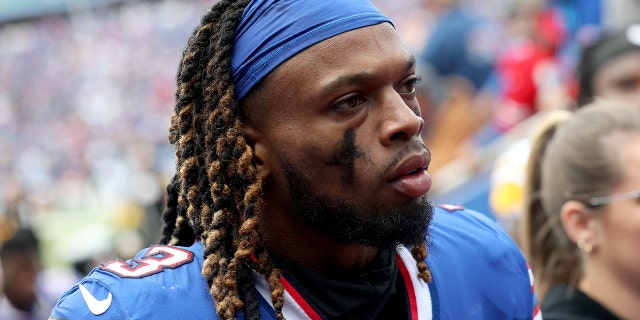 "To kick things off, I'm challenging the G.O.A.T.S.: LeBron James, Tom Brady and Michelle Obama. You've all been challenged. And, one more thing, make sure you share your videos on all socials and tag me and have your hearts up," he said. 
Hamlin spoke last week for the first time on camera since he suffered a cardiac arrest Jan. 2. The 24-year-old attended the Bills' divisional round game against the Cincinnati Bengals two weeks ago dressed in layers and was seen throwing up his now-signature heart hands while in a suite. 
BILLS' DAMAR HAMLIN RESPONDS TO 'CLONE' RUMORS AFTER PLAYOFF APPEARANCE
"Now that my brothers have closed out a strong, winning season, as I continue to make so much progress recovering, I think it's finally a good time to share a few things," he said in an Instagram post Saturday. "I think it was important for me to wait and speak publicly at the right time, as it was just a lot to process within my own self mentally, physically, even spiritually. It's just been a lot to process. But I can't tell you how appreciative I am of all the love, all the support, and everything that's just been coming my way.
"What happened to me on Monday Night Football I feel is a direct example of God using me as a vessel to share my passion and my love directly from my heart with the entire world, and I'm able to give it back to kids and communities all across the world who need it the most, and that's always been my dream. That's always been what I stood for and what I'll continue to stand for."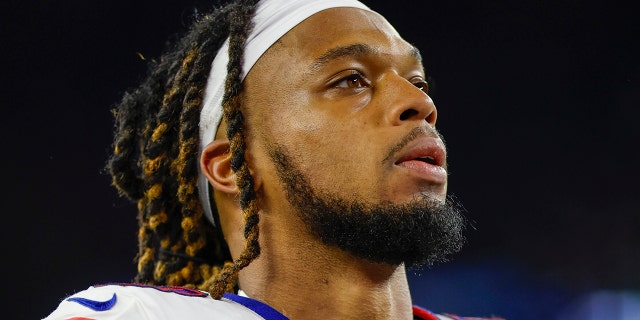 CLICK HERE TO GET THE FOX NEWS APP
Hamlin continued to thank the Bills' medical staff as well as doctors at the University of Cincinnati Medical Center, who "acted willfully and skillfully to save my life."
[title_words_as_hashtags
https://www.foxnews.com/sports/damar-hamlin-begins-new-cpr-challenge-recruits-three-goats-kick-it-off