The Dallas Cowboys have been gutting their coaching staff since their divisional round loss to the San Francisco 49ers, and it continued on Sunday as offensive coordinator Kellen Moore reportedly agreed to mutually part ways with the franchise, according to multiple reports.
It was a hot topic since head coach Mike McCarthy had gotten rid of multiple coaches after the 19-12 loss to the Niners. Moore was someone who was rumored to be among those that could go, though defensive coordinator Dan Quinn stayed after interviewing for a head coaching gig.
Ultimately, both parties viewed it as the right time to move on. And Moore isn't expected to be waiting for a call about a new gig soon.
CLICK HERE FOR MORE SPORTS COVERAGE ON FOXNEWS.COM
The Los Angeles Chargers have had Moore on their radar since they fired Joe Lombardi as their offensive coordinator. The Cowboys gave the Chargers permission to speak with Moore prior to this move on Sunday, and he's expected to speak with them soon, according to NFL Network.
The Tampa Bay Buccaneers, who got rid of Byron Leftwich in the same position, are reportedly another team to watch as Moore begins to field calls and get some interviews.
MIKE MCCARTHY SAYS OWNER JERRY JONES WANTS HIM TO COACH AS LONG AS THIS LEGENDARY COWBOYS COACH
Moore remained with the Cowboys after retiring in 2018, where he played since 2015. The Cowboys hired him as their quarterbacks' coach, but he quickly became the offensive coordinator a year later under Jason Garrett.
However, when Garrett was out as head coach following his 10 seasons with the team, his replacement in McCarthy had Moore in mind as he put together his staff in 2020, but it wasn't definite.
McCarthy did end up keeping Moore, though the results weren't the best in 2020 when the team went 6-10 on the year. It didn't help that Dak Prescott was lost for the season after breaking his ankle.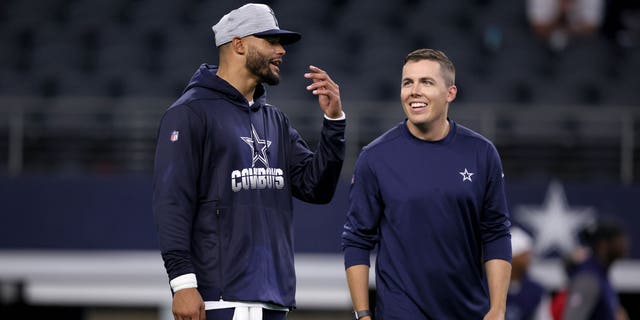 But when Prescott recovered and returned to the mix in 2021, Moore's offense was lethal. They were first in yards per game with 407 averaged while also finishing first in points scored with 31.2 per game.
DAN QUINN CHOOSES TO STAY WITH COWBOYS, CITING 'UNFINISHED BUSINESS'
That was hard to top this season, but the Cowboys still finished the regular season fourth in the NFL in points with 27.5 averaged.
The postseason began with a rout of the Tampa Bay Buccaneers, and Moore's play-calling led Prescott to five touchdowns and more than 300 yards through the air. But Moore didn't have the answer for the 49ers, and it didn't help that Prescott's interception problem struck again with two compared to just one touchdown pass to Dalton Schultz.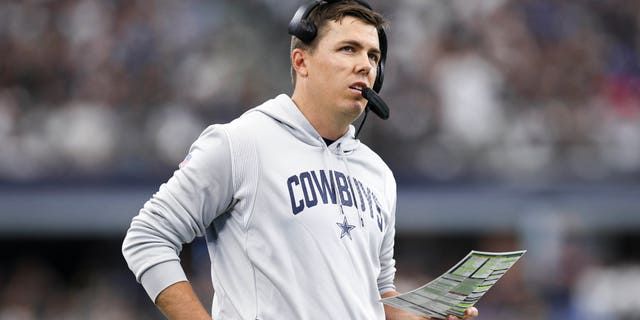 CLICK HERE TO GET THE FOX NEWS APP
So, while Dallas is now on the hunt for their next offensive mind, Moore will look to bring his expertise to another team in the league. And he should be doing so soon.
[title_words_as_hashtags
https://www.foxnews.com/sports/cowboys-kellen-moore-part-ways-another-disappointing-end-season-report