Dallas Cowboys tight end Dalton Schultz had the team's lone touchdown in their 19-12 loss to the San Francisco 49ers in the NFC playoffs on Sunday night, but he was catching some flak over the last few minutes of the game.
On a 3rd-and-1 in the fourth quarter with about 33 seconds left, Schultz caught a pass from Dak Prescott for a 9-yard gain, but because he was driven backward and then went out of bounds, the clock continued to run, and the Cowboys did not get another playoff until 14 seconds left.
CLICK HERE FOR MORE SPORTS COVERAGE ON FOXNEWS.COM
Prescott threw an incomplete pass to Michael Gallup, and on 2nd-and-10, he went back to Schultz. The tight end appeared to haul in the pass, but he only kept one foot in bounds in what appeared to be a routine throw-and-catch.
Replay reversed the call on the field, and with 6 seconds left, the Cowboys were forced to throw a pass underneath the coverage. KaVontae Turpin was immediately hit by Jimmie Ward upon completing the pass.
Dallas would run out of time and lose.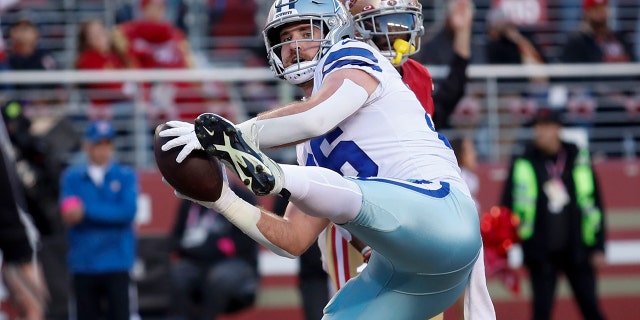 COWBOYS' MIKE MCCARTHY STIFF ARMS CAMERAMAN AFTER LOSS TO 49ERS
NFL fans watching the game were highly critical of Schultz.
"We talked about it on the sideline with officials," McCarthy said of the play where Schultz got pushed out of bounds. "No one's a fan of the rule. I can't stand it. This isn't the time to talk about it, but that's not the intent of the rule. It's a hard rule to officiate, too. By the letter of the book and the emphasis, they would say that's the correct call. Yeah, I'm not a fan of the change that they made on that rule."
Schultz finished with five catches for 27 yards. Prescott was 23-of-37 with 206 passing yards, a touchdown pass and two interceptions. He put the blame on his shoulders after the game.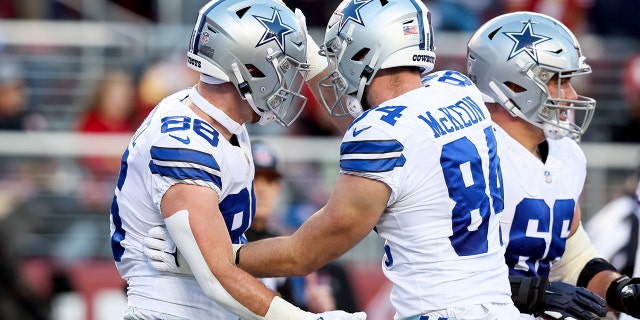 CLICK HERE TO GET THE FOX NEWS APP
"Those are throws you can't have, not in the playoffs," Prescott said of his turnovers, via the team's website. "Not when you're playing a team like that [and] on the road. No excuses for it. Those are 100% on me."
[title_words_as_hashtags
https://www.foxnews.com/sports/cowboys-dalton-schultz-faces-scrutiny-performance-final-drive-vs-49ers