Patrick Mahomes is locked in on his preparation ahead of Super Bowl LVII, so much so that he took the bait when former NFL wideout Brandon Marshall asked him a question about a fabricated compliment from this year's halftime performer, Rihanna.
The six-time Pro Bowl receiver sat among reporters during Mahomes' presser on Wednesday and asked the Kansas City Chiefs quarterback what he thought of the recent comments Rihanna made in which she called him the "greatest quarterback ever."
"Rihanna came out and said that you are the greatest quarterback ever. Hearing that, how does that make you feel," Marshall asked.
PATRICK MAHOMES WINNING SECOND SUPER BOWL WOULD IGNITE TOM BRADY COMPARISONS, EX-CHIEFS STAR SAYS
"It makes me feel great. She's going to crush it at halftime," Mahomes said. "I have family members that I think are more excited about the halftime show than they are the game. And so whatever Rihanna says is like the gospel, so I'm glad she went with me for that honor."
Mahomes, who has clearly been staying away from the headlines, fell for Marshall's prank.
"She didn't, I'm just messing around," Marshall said with a laugh.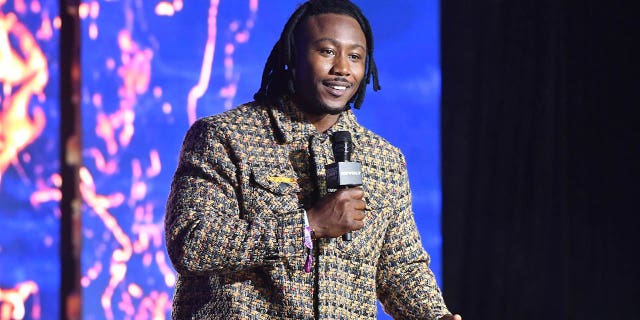 "Oh man, you got me up here smiling and smirking," Mahomes replied.
CLICK HERE FOR MORE SPORTS COVERAGE ON FOXNEWS.COM
Marshall did follow up with a more serious question, asking Mahomes what he's "chasing."
"I don't want to have any regrets when I step off this football field," Mahomes said.
"I understand how lucky I am to be in this organization. I understand how lucky I am to play with guys that are going to be Hall of Famers. And so when I'm looking back at the end of my career, I don't want to look back and be like, 'Man, I didn't give everything I had to win Super Bowls because of the great people I have around me.' So, when I get done with my career, I just want to make sure that I know that I gave everything I had on that football field."
CLICK HERE TO GET THE FOX NEWS APP
Mahomes took a few more questions about his matchup against the Philadelphia Eagles, but as he walked off the stage, Marshall's prank was still on his mind.
"I can't believe he got me with that question."
[title_words_as_hashtags
https://www.foxnews.com/sports/chiefs-patrick-mahomes-falls-rihanna-prank-question-presser-former-nfl-star-brandon-marshall