Kansas City Chiefs quarterback Patrick Mahomes did everything he could to stay out on the field in the 27-20 AFC divisional game win over the Jacksonville Jaguars on Saturday night. 
He plans to do the same in the AFC championship as well. 
Mahomes suffered a high-ankle sprain after Jaguars pass rusher Arden Key fell on his ankle in the first half of the game, according to multiple reports.
CLICK HERE FOR MORE SPORTS COVERAGE ON FOXNEWS.COM
Mahomes tried to play on it but the pain was too much, forcing him to the sideline. Backup Chad Henne took over while the MVP front-runner got treatment on his ankle. Mahomes was clearly unhappy with the Chiefs' decision as he wanted to remain in the game. 
However, Henne did well in relief, going 5-of-7 through the air with a touchdown pass to Travis Kelce before halftime to keep Kansas City in the lead. Mahomes would eventually return to the game, but he appeared limited and still hurting with some ginger hops on that ankle. 
PATRICK MAHOMES PUSHES THROUGH BUM ANKLE VS. JAGUARS; CHIEFS ADVANCE TO FIFTH STRAIGHT AFC CHAMPIONSHIP GAME
Moving forward, though, Mahomes vowed to NBC's Melissa Stark that he will "be good to go" once the AFC championship rolls around next week.
The Chiefs will play the winner of the Buffalo Bills and Cincinnati Bengals game on Sunday. 
It's no secret that Mahomes' ability to basically be a magician in the pocket, along with Andy Reid's cunning offensive schemes, makes this Chiefs team a favorite to win another Super Bowl. But Mahomes' ability to extend plays and pull off that magic comes from the use of his legs to avoid defenders and allow his receivers to get open.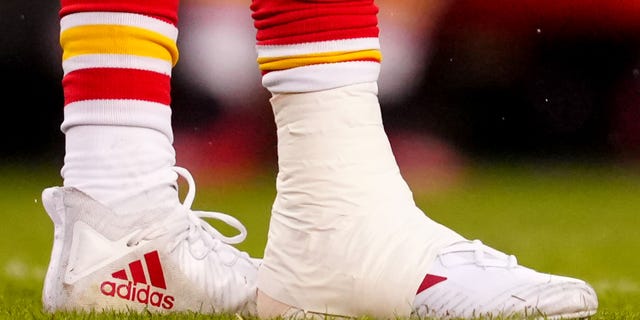 The Chiefs will certainly do what they can to allow Mahomes to be more mobile, but a high-ankle sprain normally takes weeks to fully heal. 
NFL REFEREE HAS HOT MIC MOMENT DURING CHIEFS-JAGUARS PLAYOFF GAME
Given this is the playoffs and every game has the chance to end a season, Mahomes doesn't care much for recovery. 
In his time on the field Saturday, Mahomes was very efficient, going 22-of-30 through the air for 195 yards and two touchdowns. The first was to Kelce to kick off the game, followed by Marquez Valdes-Scantling in the fourth quarter to continue adding pressure on Jacksonville. 
The Chiefs were also helped in the run game thanks to rookie Isiah Pacheco, who was crucial in that Henne touchdown drive while Mahomes ran to the locker room to get his ankle wrapped.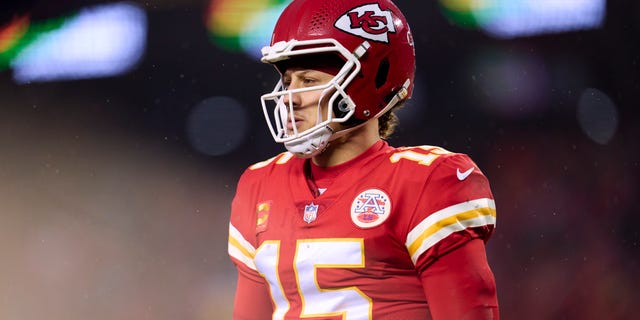 CLICK HERE TO GET THE FOX NEWS APP
The AFC championship will take place on Jan. 29 in either Kansas City, if the Bengals defeat the Bills, or Atlanta, as the Bills played one less game than the Chiefs and a neutral site was agreed upon.
The Associated Press contributed to this report.
[title_words_as_hashtags
https://www.foxnews.com/sports/chiefs-patrick-mahomes-diagnosed-high-ankle-sprain-playoff-win-reports