Kansas City Chiefs head coach Andy Reid knows and appreciates the connection he shares with the Philadelphia Eagles, but his focus will be on winning another Super Bowl come kickoff Sunday.
Reid spoke to the media during a press conference Tuesday and was asked to reflect on his time in Philadelphia, where he coached the Eagles to six NFC championship games and one Super Bowl. 
"Listen, I had 14 great years there. I loved every minute of it. It's a great organization. I still am close with the people there. It was great to see the kids that we had drafted that are now these veteran players — All-Pro players — on that team.
CHIEFS' PATRICK MAHOMES ON TYREEK HILL: 'WE LOST AN ALL-TIME GREAT RECEIVER,' BUT CREDITS COACHES FOR ADAPTING
"I had the chance to give them a hug last night, and now we go our separate ways and get ready to play."
Reid got the chance to embrace those "kids" during opening night, including center Jason Kelce, defensive tackle Fletcher Cox and defensive end Brandon Graham. He also gave a special shout out to Eagles executive vice president and general manager Howie Roseman.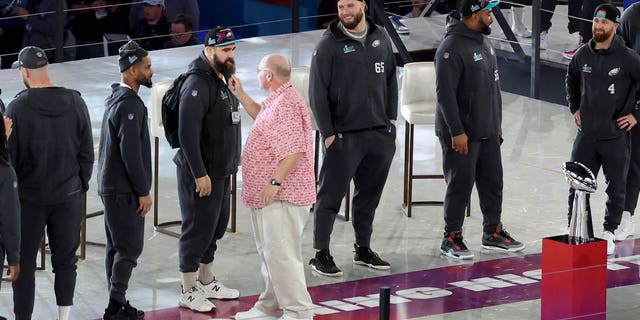 CLICK HERE FOR MORE SPORTS COVERAGE ON FOXNEWS.COM
"I'm proud of them and what they've done. I'm proud of Howie Roseman and what he's done. He's done a great job of retooling that team a couple of different times, and that's not an easy thing to do. He probably didn't get enough credit for that," Reid said. 
The Eagles and Chiefs are both chasing their second Super Bowl title within five years. For Kansas City, the big stage is more familiar.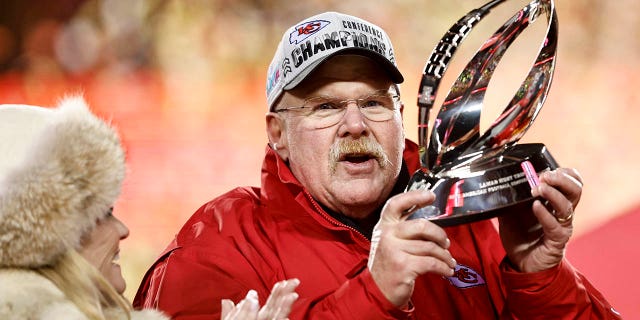 CLICK HERE TO GET THE FOX NEWS APP
But for Reid, the storylines don't really matter. 
"Once you get through all that, now it's the teams playing each other," Reid said. "And it doesn't really matter the uniform. Once the game gets going, it's football. Who's got the better team, better players, better coaches and who gets a break here or there — all those things that normally happen in a football game takes place. So you kind of blank all the other stuff out. Not too worried about that. You don't let it get in the way of your preparation." 
[title_words_as_hashtags
https://www.foxnews.com/sports/chiefs-andy-reid-proud-eagles-roots-says-now-we-go-our-separate-ways-get-ready-play