Pete Weber was not trying to go viral when he won the 2012 PBA U.S. Open. All he wanted to do was to show up a 12-to-14 year old who jeered against him "a little too loudly" for his liking.
When he put up a strike on his final shot, he meant to tell the fan "Who do you think you are f—ing with me in my house? This is my tournament."
Except he had the greatest slip-up of all-time, and it became the most infamous celebratory quote in sports history:
"Who do you think you are? I am."
CLICK HERE FOR MORE SPORTS COVERAGE ON FOXNEWS.COM
Weber needed a strike to win that tournament almost 11 years ago, and Feb. 26 will be the anniversary. He got a spare on the 10th frame, which gave him one more shot.
However, when the fan heckled him, that was when the adrenaline started kicking in, and he admitted he "kind of went off a little bit."
Then, he uttered the greatest eight words in the history of sports.
"So I made the spare, and I looked at him and said a few words. At the end after I struck the win, I wanted to look at him and say 'Who do you think you are effing with me in my house? This is my tournament,' Weber said in a recent interview with Fox News Digital. "That's what I actually wanted to say. But it came out 'who do you think you are, I am.' 
"It was just one of them things that adrenaline – I was thinking about it, but the adrenaline took over, and I just blurted out words, and it became a famous quote."
The infamous misspeak went viral and continues to be a celebration cry. In fact, Patrick Mahomes tweeted Weber's celebration after winning the AFC Championship on Jan. 29.
PATRICK MAHOMES' FATHER 'PROUD' HE'LL GET TO SEE HIS SON MAKE NFL HISTORY AT SUPER BOWL LVII
It was cool for the quarterback of Weber's own favorite team to use his likeness. The Missouri native admits he was a Rams fan before they moved from St. Louis to Los Angeles, but has been "dedicated" to the Kansas City Chiefs ever since. However, what makes him happier is the fact that the quote still lives on.
"To have Patrick Mahomes tweet that with a picture of me and my little quote, that's pretty cool to me, because that means the younger generation of professional sports know who I am besides young bowlers," Weber said. "I knew some of the older guys in sports know who I was, but to have Patrick Mahomes do that, what a great honor that is."
Weber says he has never tried to copyright the phrase, but the fact that it is synonymous with his favorite sport is enough of a prize.
"It helped bowling out, and that's fine. If it's helping bowling, then let them use it all they want," he says.
Weber is a five-time U.S. Open champion, the most by any bowler ever, who drew plenty controversy in his hey-day for his vibrant personality in a rather mellow sport. He is one of the greatest ever in the sport, but he is most known for the infamous quote, rather than his illustrious career.
And that is all OK by him.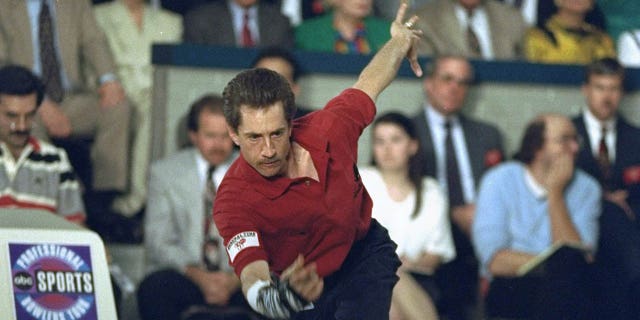 CLICK HERE TO GET THE FOX NEWS APP
"It's never become annoying. It's kind of tough to write on a little card. It's kind of tough to write on that, but on a picture, people request that and I write it. But it's never annoying," Weber said, adding that "99.9%" of his Cameo requests ask him to say the phrase. "It doesn't bother me. I know it's something I said. I know it went all over ESPN, it went all over FOX, it went all over the networks. It's kind of flattering to me that it's all still going on."
Weber has his Chiefs taking home the victory, 27-24.
[title_words_as_hashtags
https://www.foxnews.com/sports/bowler-pete-weber-reflects-famous-quote-patrick-mahomes-tweets-it-celebration