The Portland Trail Blazers may have blown a 25-point lead to the Los Angeles Lakers on Sunday night, but the bigger storyline in this contest was the budding feud between guards Damian Lillard and Patrick Beverley. 
Beverley is known to be a pest defensively on the hardwood, and because of that, he's made an enemy or two over his years in the NBA.
Lillard has been on that list since May when a social media feud took place after he tried to defend Chris Paul following comments from Beverley on TV calling the Phoenix Suns guard a traffic cone during last year's NBA playoffs.
CLICK HERE FOR MORE SPORTS COVERAGE ON FOXNEWS.COM
While at the free-throw line in the second quarter for this game – a frame in which the Blazers outscored the Lakers 45-13 to pull away in the first half – Beverley was seen yapping at Lillard, who was at the free-throw line. Lillard continued to talk right back to him. 
It got to the point where referees stopped play and issued a technical foul to Beverley, who continued to talk to Lillard as he walked away. 
NBA STARS SPARK DEBATE OVER VIRAL YOUTH BASKETBALL VIDEO: 'IT'S GETTING OUT OF CONTROL'
Los Angeles would eventually win in stunning fashion for Blazers fans, 121-112, as LeBron James scored 37 points, leading all scorers, during the comeback. Lillard didn't have his best night from the floor, shooting 5 for 17, though he did have 24 points, 10 rebounds and six assists in 40 minutes of play. 
Beverley had four points, two rebounds and two assists, but the big stat for him is always the plus/minus when he's on the court, which came out to a plus-27.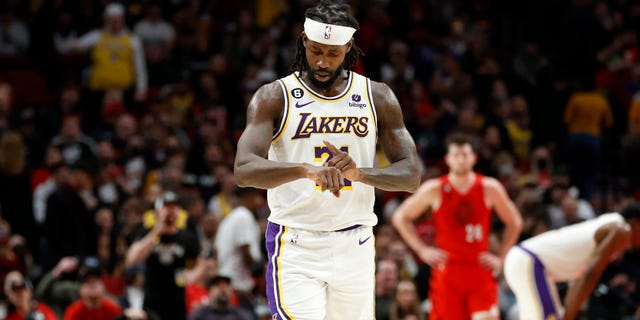 He also mocked Lillard's patented "Dame Time" celebration as it was clear the Lakers were about to win the game. Beverley looked like he was tapping a watch on his wrist and motioned to take it off and put it in his pocket as he walked off the floor. 
But that wasn't all. When a certain reporter asked Beverley a question post-game about his performance and mentioned Lillard had a "slow shooting night," the Lakers guard took exception to it, which would eventually cause some social media drama. 
"If he would have cooked me, you would have said, 'I couldn't guard him.' But he misses a couple shots and it's a 'slow shooting night.' 'Good job on Dame' sounds better," Beverley said to the reporter. 
PATRICK BEVERLEY CLAIMS BALL BOY THREATENED TO KILL HIM OVER 2013 RUSSELL WESTBROOK INJURY
When that video surfaced on Twitter, Lillard said, 'Con man. Flip from above the rim.' Lillard is referencing Bernie Mac's character in the 1994 basketball film "Above the Rim." 
Beverley fired off a tweet on Monday close to an hour after Lillard to say, "He mad. Entertaining," which is assumed to be about Lillard.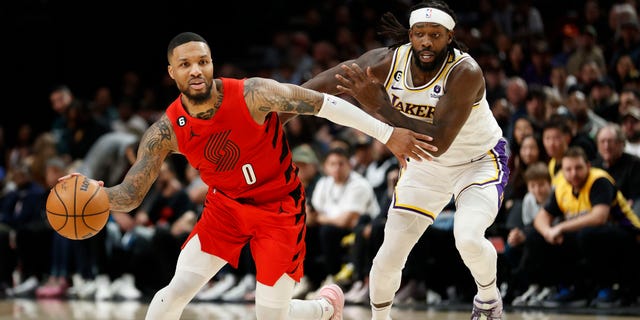 CLICK HERE TO GET THE FOX NEWS APP
This feud will have some time to fester before these Western Conference foes face off again on Feb. 13 in Portland.
[title_words_as_hashtags
https://www.foxnews.com/sports/blazers-damian-lillard-calls-lakers-patrick-beverley-con-man-on-court-feud-boils-over-twitter