A crucial play in Saturday's matchup between Duke and No. 8 Virginia should have resulted in the Blue Devils attempting two free throws at the end of regulation. 
With 1.2 seconds remaining in the second half and the game tied 58-58, Duke's Kyle Filipowski cut to the basket, received the basketball on the inbounds pass and went up for the dunk. 
He was met at the rim by two Cavaliers defenders, and officials called a foul as time expired.
DUKE FUMES AS CRUCIAL FOUL CALL VS VIRGINIA GETS WAVED OFF; CAVALIERS WIN IN OVERTIME
After review, it was determined that the foul occurred after the clock reached 0.0., sending the game into overtime with the Cavaliers winning, 69-62.
Saturday night, the ACC said the officials made an "incorrect adjudication of the playing rules." 
NEW MEXICO STATE SUSPENDS MEN'S BASKETBALL PROGRAM, PLACES COACH AND STAFF ON PAID ADMINISTRATIVE LEAVE
"A foul was called on Virginia's Ryan Dunn during a shot attempt by Duke's Kyle Filipowski as time expired," the ACC said. "Upon the officials' review of the play, it was determined that the foul committed occurred after the clock reached 0.0. However, the play should have resulted in two free throws for Duke."
The conference cited Rule 5, Section 7, Article 3c of the NCAA Rule Book to explain.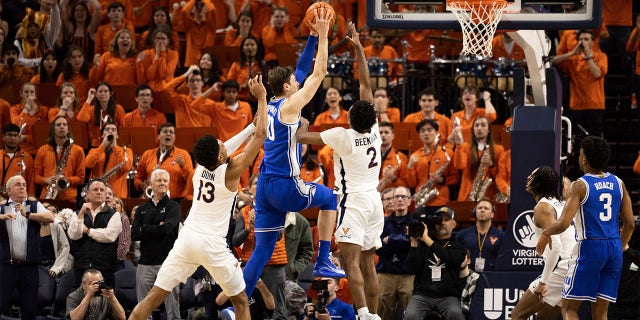 "Rule 5, Section 7, Article 3c states 'when a foul occurs so near the expiration of time that the official timer cannot stop the game clock before time expires or when the foul occurs after time expires but while the ball is in flight during a try, the period will end when the two free throw(s) and all related activity have been completed,'" the ACC said in its statement.
CLICK HERE FOR MORE SPORTS COVERAGE ON FOXNEWS.COM
Duke head coach Jon Scheyer told reporters after the game he did not receive clarification from the officials on the call.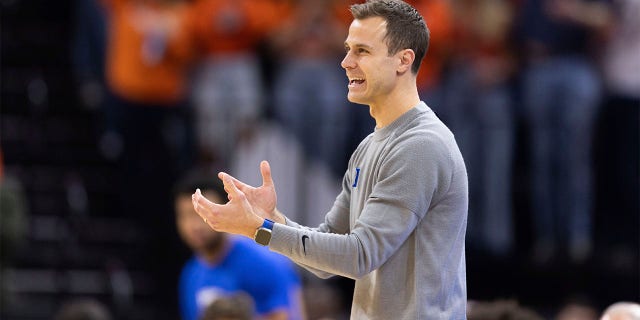 "I still would like an explanation exactly what had happened, you know, and I don't have clarity on that," Scheyer said. "He made a big-time play attacking the basket, and there's no doubt he's knocking down those free throws in my mind.
CLICK HERE TO GET THE FOX NEWS APP
"They told me after the fact that the call was made after the buzzer, and you can see the ball left his hands before point zero. So, I don't know exactly what the rule is."
The loss dropped Duke to 17-8 on the season and moved Virginia to 19-4.
Fox News' Ryan Gaydos contributed to this report.
[title_words_as_hashtags
https://www.foxnews.com/sports/acc-admits-blown-call-end-regulation-virginias-overtime-win-over-duke